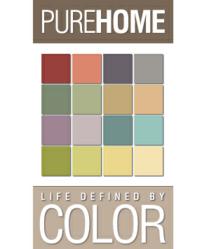 Seattle, WA (PRWEB) May 03, 2011
With the rapid growth of online commerce, industries nationwide are shifting their focus to connection and communication with their customers on the internet. Unfortunately, the home decor industry has been struggling to find a method to access more of the consumers within its $330 billion market. Pure Home Corporation is developing a specialty retail channel - launching this spring - that will create an epochal shift in how home decor consumers find and purchase products.
Pure Home's online marketplace solves numerous problems for the home decor industry in reaching and maintaining customers by providing a social commerce platform that is targeted to each consumer's needs. Social media is critical to the growth of industries online, and Pure Home has provided an integral connection with Facebook to give users the ability to share their Inspir™ color palettes, personalized product discoveries, and home decor projects with their social network.
"Consumers have permanently changed the way they purchase products," said Barry Abraham, Founder and CEO of Pure Home Corporation. "They begin their buying process online, and we are providing them with the platform to successfully make personalized home design decisions that will ultimately make them happier with their DIY project results."
While providing contextually-matched home decor products to consumers, Pure Home will simultaneously connect their brand partners with customers who are ready to purchase their products, driving thousands of targeted consumers into each brand's buying process. This contextually-driven, socially-centered marketplace has not yet been seen in the home decor industry, and will revolutionize the way home decor purchases are made.
About Pure Home:
Pure Home is a social trading hub for the home decor industry, bridging the communications gap between buyer and seller by leveraging the Inspir™ Color Standard with their Contextual Search technology. Pure Home's breakthrough user experience provided on their unique social commerce site gives consumers greater confidence in their home decor decisions, while products from Pure Home's brand partners are available for algorithm-fueled recommendations to consumers. The breakthrough value proposition brought to the market by Pure Home's platform will result in the efficient balance of supply and demand in the home decor market. Unfiltered by the economics of scarcity and elevated by contextual matching, new markets and thousands of new customers will be opened to Pure Home's partner brands. For more information, visit the Pure Home web site at: http://www.purehome.com or the Pure Home blog at: http://blog.purehome.com.
###