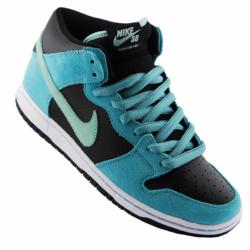 Pure's weekly newsletter is a great tool to directly target our customers. Together with twitter and facebook, reading the responses, as well as seeing the results at the register, is a surefire way to be sure we have the right product.
Annapolis, MD (PRWEB) March 15, 2012
Pure Board Shop sends out a newsletter every Wednesday to their email accounts and their social media pages.
This newsletter contains new product information as well as any promotions or events Pure is doing that week, until the following Sunday.
Included in all newsletters is a link to their social media pages and their website, pureboardshop.com.
Also in every newsletter is an aggressive discount Pure is promoting for that week.
This week, from March 14 until March 18 Pure is having a Nike SB sale.
All Nike SB Janoski Mids, Kostons, P Rod 5s, Zoom FPs, and Team Editions are 25% off MSRP.
This deal will not include any Spring 2012 product, and cannot be combined with any other deals, discounts, special orders, or layaways.
The newsletter Pure puts out is a valuable tool in marketing their store and highlighting new product as well as products they want to move, as shown with the Deal of the Week.
Pure's twitter account, twitter.com/pureboardshop and their facebook pages, facebook.com/pureboardshop are proving to be a driving force in their success. Local customers, as well as riders from all over the country, reply to their posts daily and provide the management at Pure with content enabling them to keep on the cutting edge of the newest and the hottest product in skate/snow/surf markets.
This Week At Pure
Pure is continually adding product to the shop, and bringing you better displays to ease your next trip. The Neff sunglasses and watch case is full and ready for you to make your choices; there is also have a brand new rack of Stance socks to accompany their Neff case.
In other product news, Pure has two brand new Vans shoes that just arrived: a Half Cab and an Era.
Classic looks from your favorite shoe brands are lined up on the shelves, including Vans, Nike SB, HUF, Globe, DC and Adidas.
Speaking of Nike, check out the March QS Dunk Low in now.
Also, Pure's longboarding friends will be glad to see what new decks Pure has to offer.
Never Summer, Sector 9, Bustin, Original, Landyachtz, Rayne and Comet.
Finally, they are celebrating Nike SB releases with a deal on some of the other shoes to round out the week's news.
Pure is always promising the hottest Nike SB product, and March has been a good month for anyone who loves them.
They have already showcased some general releases, including the Seacrystal Dunk Mids, which there are still a few left.
For any of your SB needs, just give them a ring up at the shop or stop on by. Pure's knowledgeable and energetic staff is always stoked to help you out with your continuing collection or your new Spring wardrobe.
Longboarding Product
Pure is always updating their longboard inventory, as you have seen the past couple weeks with the ever growing extensive wheel collection.
This week, they added some Bustin decks and they received the newest shipment of Never Summer.
Pure now has both the Heist and Descent V2 decks, both with Carbonium Durapic bases; look for both Classic and Power Flex versions.
While you're there, don't forget the huge supply of bushings and bearings featuring all of your favorite brands.
Also, plenty of the best helmets and safety equipment always in stock.