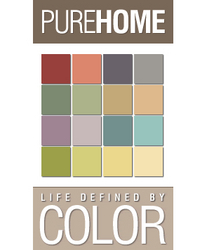 Seattle, WA (Vocus) November 23, 2010
After three years of research and development, veteran Seattle entrepreneurs and former MySpace product development team members, are reading the launch of its marketplace of ideas and social trading hub on the web. Pure Home Corporation is using social commerce to deliver a breakthrough user experience in correct color selection and contextual search technology to provide each user with products and ideas that are targeted to their specific needs in home decor.
In addition to providing this necessary platform to the consumer, the company is attempting to educate the home decor industry in the new buyer needs presented by social media and the web. The new tools and social platforms presented by Pure Home bring a simple and fun buying experience to DIY consumers. The web has the ability to destabilize the big brands of the home decor market, since big brands will need to re-structure to keep up. Pure Home will provide a strategic trading platform that matches merchants and products with consumers at the exact moment they need it. They will be working with major brands such as Benjamin Moore, Sherwin-Williams, and Shaw Floors.
About Pure Home:
Pure Home is a social trading hub for the home decor industry, bridging the communications gap between buyer and seller by leveraging the Inspir™ Color Standard with their patent pending Contextual Search technology. Pure Home is bringing symmetry to the flow of information in an extremely fragmented marketplace, with a breakthrough user experience - giving consumers greater confidence in their home decor decisions. As more manufacturers become part of Pure Home's social commerce platform, more and more products are becoming available for algorithm-fueled recommendations to consumers. Ultimately, Pure Home's breakthrough value proposition will result in the efficient balance of supply and demand—unfiltered by the economics of scarcity, and elevated by contextual matching—opening new markets and customers to sellers regardless of their geography, sales volume or revenue-generating constraints while lowering transaction cost within the marketplace.
For more information, visit the Pure Home web site at: http://www.purehome.com.
###