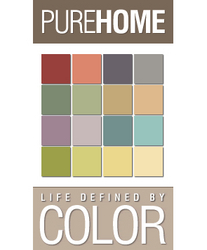 Seattle, WA (Vocus) November 17, 2010
Color defines us, our mood, and our self-expression, and is central to all home décor decisions, according to Pure Home Corporation, a social commerce start-up in Seattle, WA. However, the proper selection of color, style, emotion, and dozens of other complexities define the communication problem between buyer and seller. Pure Home Corporation will soon make available to Do-It-Yourself (DIY) home décor consumers a patent pending web-enabled platform called Inspir™ that solves this chronic problem.
For consumers, home décor is defined by emotional context while home décor merchants are disconnected from the emotional aspect of the buyer's experience. Consumers want to design their home based on moods, self-expression, and styles. Pure Home brings understanding and a process to home décor design, by guiding consumers through a process of artfully crafted questions derive these human traits and other key attributes that define a person's living environment to create a highly personalized color palette for their home. Brands and merchants who participate in Pure Home's color palette creation tool are able to create a higher order relationship with the consumer, surpassing simple function but emotional satisfaction with their products.
About Pure Home:
Pure Home is a social trading hub for the home décor industry, bridging the communications gap between buyer and seller by leveraging the Inspir™ Color Standard with their patent pending Contextual Search technology. Pure Home is bringing symmetry to the flow of information in an extremely fragmented marketplace, with a breakthrough user experience - giving consumers greater confidence in their home décor decisions. As more manufacturers become part of Pure Home's social commerce platform, more and more products are becoming available for algorithm-fueled recommendations to consumers. Ultimately, Pure Home's breakthrough value proposition will result in the efficient balance of supply and demand—unfiltered by the economics of scarcity, and elevated by contextual matching—opening new markets and customers to sellers regardless of their geography, sales volume or revenue-generating constraints while lowering transaction cost within the marketplace.
For more information, visit the Pure Home web site at: http://www.purehome.com.
###