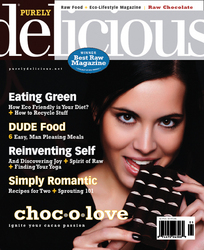 You don't have to eat 100% raw to enjoy benefits such as weight loss, glowing skin and improved digestion.
Fort Lauderdale, Florida (PRWEB) March 1, 2010
Purely Delicious, a raw food and eco lifestyle magazine, has won the 2009 Best of Raw award for Best Raw Food Magazine of 2009. Known for its stunning photography and simple recipes, Purely Delicious shows readers how to live a raw vegan food lifestyle, without a lot of special equipment or costly ingredients. The quarterly publication is available at Whole Foods Markets and select newsstands.
Laura Fox, producer of the Best of Raw awards, said, "I salute Purely Delicious for standing out as a leader for our culture to make this very important — and I would even say crucial — shift to a more organic plant-based diet. An increased emphasis on more raw, vegan food helps people get well and stay well."
Rebecca Carlson, editor of Purely Delicious, knows personally the health benefits of eating a plant-based diet. Rebecca was diagnosed with multiple sclerosis in December 2005 after she began experiencing loss of feelings in her legs, blurry vision, vertigo, fatigue and depression. Once Rebecca adopted a 100% raw food diet in July 2007, she was soon symptom-free.
Rebecca is quick to point out, "You don't have to eat 100% raw to enjoy benefits such as weight loss, glowing skin and improved digestion." Fruits, vegetables, sprouted grains, nuts and other wholesome ingredients can be combined together or eaten alone to become purely delicious, everyday food.
About Purely Delicious
Founded in 2007, Purely Delicious (http://www.purelydelicious.net) has successfully attracted a growing audience during an economy in which magazine subscriptions are down industry-wide. As a raw food magazine read around the globe, Purely Delicious has subscribers in more than two dozen countries throughout Europe, Asia and the Middle East.
Published by parent company 123Raw (http://www.123raw.com), Purely Delicious provides meaningful content, including recipes from world-famous chefs, a "Raw 101" beginners' section, personality profiles of health and nutrition luminaries and advice on travel, kitchen design, green living, entertaining, fitness and more.
Single copies of Purely Delicious retail for $5.97US/$9.97CAN; subscriptions start at $25US/$34CAN per year. An online version of the magazine is slated to debut this year. For subscriptions, call (919) 783-4050 from 9:00 a.m. to 6:00 p.m. EST, or order online at http://www.purelydelicious.net. Purely Delicious also appears on Facebook and Twitter.
# # #