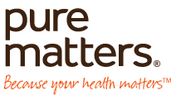 The new Advisory Board brings together some of the brightest minds in the nutrition and wellness industry.
Herndon, VA (PRWEB) February 01, 2012
Pure Matters has announced the official launch of its Pure Matters Advisory Board, which will provide expert guidance to the public and provide a strategic direction for the company, its consumers, clients, and community. The Advisory Board will provide insight on the development and assessment of the company's products, while offering informational content to customers, clients, and individuals within the business itself. It is headed up by Amy Fitzpatrick MS, RD, Dr. Shyam Parikh, Dr. Marc Meyers, and Dr. Alan Cutler, Ph.D., all whom have extensive experience in the field.
Each member of the Advisory Board will lend his or her expertise and knowledge, including professional experience in science, health, medicine, wellness, and nutrition, which will go directly into the research and development process. Pure Matters has enlisted Amy Fitzpatrick MS, RD, a wellness, nutrition, and supplement coach with an education in nutrition science. Fitzpatrick has worked as a professional nutrition expert and as a registered dietitian for over a decade. She often talks about the links between nutrition and disease prevention.
The company's Advisory Board also includes Dr. Shyam Parikh, a licensed pharmacist who has spent over a decade recommending pharmaceutical and nutritional-based treatments to patients. Parikh has worked with some of the leading physicians in the nation and is an Associate Director of Medical Information Services at Ascend Therapeutics. Speaker and author Dr. Marc Meyers, Managing Principal R&D Consultant for Meyers Consulting, has helped develop and launch products in the baking, confectionary, and dietary supplement industries. Meyers has also patented various ingredients, technology, and finished products. Through his consulting company, Dr. Meyers has worked with top corporations like Amway, ConAgra Foods and United Foods. Previously Director of Product Development for Pinnacle Foods Corporation, Meyers is now lending his expertise to the Advisory Board.
"We are delighted to assemble such a knowledgeable group of advisors as members of Pure Matters' Advisory Board," Steven Rindner, CEO. "The Advisory Board provides a single source of knowledge and expertise on our diverse range of products and services. Our products, staff, and customers will all benefit from their combined expertise."
Also part of the Advisory Board is Dr. Alan Cutler, Ph.D., an author and Principal of a pharmaceutical development consulting company, Alan Cutler Consulting, LLC. Along with his doctoral degree in Chemical Sciences and experience working with the FDA, Dr. Cutler has built his experience in research and development as well as authoring pharmaceutical patents. While working for 3M, he won the prestigious Corporate Technical Circle of Excellent Award on two occasions.
"The new Advisory Board brings together some of the brightest minds in the nutrition and wellness industry, "Rindner added. "Such a broad range of knowledge and experience can only benefit our bottom line as customers, internal staff, and general products stand to gain from a firm hand on all the hard facts of living a healthy lifestyle."
The Pure Matters Advisory Board brings together several technical experts. A comprehensive website also provides a guide to the company's product line, which includes over 900 supplements and ingredients as part of its Herbs and Supplements Guide. For more information on the various products available and the new Advisory Board, visit the company's website at http://www.purematters.com.
About Pure Matters
Pure Matters is a health and wellness retailer, providing wholesome, natural vitamins, minerals and herbal supplements. Dedicated to quality and efficacy, Pure Matters relies on rigorous testing, quality assurance procedures, as well as over a century of pharmaceutical heritage. Pure Matters puts the health of customers first and foremost, offering pure-balanced solutions proven to enhance quality of life.
###