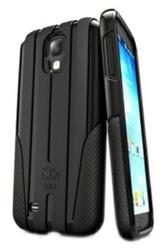 We just want to make sure our clients are taken care of, and that means providing them with quality products at competitive prices
(PRWEB) May 01, 2013
Puremobile has been anxiously awaiting the arrival of the new Samsung Galaxy S IV for a year now and it's finally here. Today, Puremobile.com brings tech connoisseurs the latest accessories for the new Galaxy S4. Puremobile has launched a new and updated selection of Samsung Galaxy S4 cases and accessories for customer's phones at competitive prices.
Puremobile's online presence has grown considerably over the past nine years and an emphasis on client relations has become of top importance. Puremobile has gained an active online community that keeps customers and staff connected. "We just want to make sure our clients are taken care of and that means providing them with quality products at competitive prices. They've been great to us since we started and we want to make them proud," says Nael Hatto, E-Marketing Manager at Puremobile.com.
The new Samsung Galaxy S IV accessories will be at the forefront of a new marketing campaign and something that customers will want to look out for. Hatto explains that, "The Samsung Galaxy S IV is very hot right now. People seem to really enjoy the iLuv line because it's bright and sleek. There really is something for everyone."
In addition to iLuv, Puremobile also has accessories for the Galaxy S IV by brands such as Griffin, Incase, Puregear, and Moshi. "Customers should know that we want to go out of the way to help them get the product they need. And we're willing to offer discounts to make sure they get them. We're all really excited about the launch of the phone and the accessory line and we want to share that excitement with everyone," adds Hatto. For customers looking to buy Samsung Galaxy S IV products, enter the promo code sams43 at the checkout and receive a 10% discount on products.
Puremobile.com is a leader in gadget accessories. Our company sells name brand cell phone and tablet accessories with a personalized customer service that isn't available anywhere else. Whether it's a new iPhone case or a laptop bag, you can find it at Puremobile.