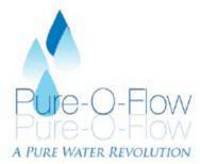 To coin a phrase from the financial industry, the increasing endorsement of PureOFlow products represents a
Las Vegas, NV (Vocus) October 15, 2009
Today, Pure Revolution, a company specializing in commercial and residential water purification systems, announces that its inaugural Bootcamp for dealers was a resounding success.
The two-day intensive training program was well attended by dealers from across the United States who were affiliated with "valve" dealerships including Hague, Ecowater, AquaSystems and other regional water softener dealers. Pure Revolution's CEO Tom Cartwright sees this as a sign of the times. "To coin a phrase from the financial industry, the increasing endorsement of PureOFlow products represents a "flight to quality," says Cartwright.
AB1366, a bill banning water softeners, a major cause of salt pollution, was passed by the California Assembly in August 2009. The bill was signed into law on October 12, 2009. Mike Paice, President and Chairman of Pure Revolution predicted this more than a year ago. Paice says, "California's action will have a domino effect on the rest of the country as voters realize that the cost of treating the salt-polluted water will be passed onto them by municipalities. The environment is ripe for a country-wide revolution."
Jeff Averyt, Water industry veteran and President of High Peaks, one of the largest dealerships in Phoenix understands how salinity levels are ruining golf courses in Arizona. He adds, "The PureOFlow products represent the most impressive and innovative water treatment that I have seen in 30 years. PureOFlow products will enable every restaurateur improve the consistency of their food and beverage products while reducing operational costs. "
Savvy water softener dealers know that their business can become obsolete unless they diversify their product offerings. If the tea parties protesting healthcare reform are an omen of a revolt, it is a matter of time before there is an uprising against going along with unhealthy water treatment options.
The Water Quality Association has indicated that they will not actively participate in revoking the salt ban regulation.
Tom Kinnane, Vice President, Marketing & Sales of Hague of Maryland, says, "Events like the Dealer Bootcamp will help make PureOFlow synonymous with quality and professionalism. This training will help us maintain our reputations as water quality experts in our communities, which we spent years developing."
The topics covered ranged from water quality concerns across the United States based on all the recent investigative reports from NY Times series on Toxic waters to CNN's coverage of the male breast cancer in Camp LeJeune to dealer support programs and education about how water quality impacts the food and beverage industry.
Bob Morgan, President of Water Specialties in Chicago has been involved in reverse osmosis systems for more than 25 years. He was quick to endorse PureOFlow's dealer support programs, saying, "I received a lot of information out of the seminar. The additional dealer support in providing us 60-day terms will help dealers increase our sales. The progress of PureOFlow over the past several months is encouraging."
JOIN THE PURE WATER REVOLUTION
About Pure Revolution
As a company, Pure Revolution envisions a future where the world's fresh water crisis is addressed and managed through home technologies. With the PureOFlow whole-house/whole-business reverse osmosis water purification system, bottled water, household water softeners and at-sink filters become unnecessary, saving homeowners money and reducing waste. The Pure Revolution line of PureOFlow products represents the best solution to address today's economic and environmental concerns related to greener, cleaner water solutions, as well as offering a valuable solution to water softener bans across the nation. PureOFlow systems satisfy all of these concerns by generating ROI and contributing positively to the environment. It is truly the perfect time for this product.
The PureOFlow reverse osmosis (RO) system removes nearly all of the substances found in tap water both natural--such as hard water salts, and manmade--such as pharmaceutical contaminants. As water enters the home it passes through a PureOFlow system containing a series of membranes that work to reduce up to 98% of harmful substances such as arsenic, lead, and radium - neutralizing particles as small as 1,000th the width of a human hair, as well as eliminating any trace-amounts of other impurities in drinking water.
More than 1,000 businesses have trusted PureOFlow technology to provide purified water efficiently and cost-effectively to their customers and have given PureOFlow more than a 90% satisfaction rating. Its growing number of residential customers are a further endorsement on PureOFlow's effectiveness. For more information visit http://www.pureoflow.com, or call (702) 834-6570.
Media Contact:
Molly Walpola
PureOFlow by Pure Revolution
702.834.6570
###