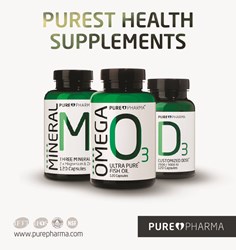 "I'm pleased to say that PurePharma's range of supplements meets our high standards, and we're confident about putting our name behind them."
Orlando, Florida (PRWEB) November 08, 2013
Fitness business coaching giant Net Profit Explosion has given its stamp of approval to international supplement company PurePharma.
NPE CEO Sean Greeley says the new partnership between the two companies, which began this month, provides its members with trusted and scientifically proven supplements they can use and sell to their fitness clients.
"We encourage our members to promote supplements as a useful tool for their clients to achieve their fitness goals, however, with so many on the market it can be hard to know which ones to recommend," Mr. Greeley says.
"I'm pleased to say that PurePharma's range of supplements meets our high standards, and we're confident about putting our name behind them."
"That's why PurePharma has been named an official health supplement of NPE."
The Danish company is already a big name in the CrossFit community and through that link NPE hopes to support more fitness business owners with its coaching programs.
NPE is well known for helping coaches master "the business" of fitness and has offices around the world.
It provides everything health and fitness professionals need to know to drive commercial results, offering a unique skill set to help establish and drive a successful business.
Based in Denmark, PurePharma is a global company, and NPE clients can purchase and sell its products from anywhere in the world.
PurePharma CEO Oliver Amdrup says his company's supplements are based on extensive scientific research and innovation.
"Just like NPE, we are known for our high quality products and delivering on our health promises," Mr. Amdrup says. "This new partnership with NPE will help more people discover the benefits of using PurePharma supplements."
PurePharma specializes in a limited range of supplements to ensure it delivers the best products.
Its range includes PurePharma O3 – Ultra Pure Fish Oil, PurePharma M3 – Three Minerals, and PurePharma D3 – Customized Dose.
All products are awarded five stars for purity and freshness, and are naturally produced with no fillers.
For more information about NPE and PurePharma, please visit their websites: http://www.netprofitexplosion.com and http://www.purepharma.com.
For additional information, please contact:
Scott Morrison
VP of Business Development
Net Profit Explosion
888.866.4998
Scott(at)NetProfitExplosion(dot)com
http://www.netprofitexplosion.com
About NPE
Net Profit Explosion is the only global fitness community with complete business systems, done-for-you tools and supportive coaching programs for driven and courageous entrepreneurs.
To best serve its clients, NPE has three offices around the world: in Perth, Western Australia, Orlando, Florida, USA and Haywards Heath, Sussex, England.
NPE has been listed four times on the Inc. 500 of "fastest growing," privately-owned US corporations.