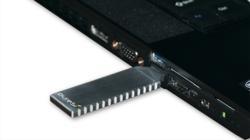 We're particularly proud of the Kage Series USB, which delivers the essential benefits of an SSD in something the size of a USB drive, while offering high transfer speeds and 240 GB — all in killer packaging.
Golden, CO (PRWEB) January 18, 2012
pureSilicon™ Inc. (http://www.puresi.com), innovator of high-performance storage technology for the industry's most demanding applications, has launched a new line of enterprise-focused storage devices that give IT administrators high-performance options for power users. The new Kage Series comprises the Kage K1 USB Flash Drive — an "impossibly thin" (4.5 mm) USB 3.0-based SSD drive that redefines portable performance and capacity for mobile enterprise and prosumer users; and the Kage K1 SATA SSD that leverages the advanced technology pioneered in pureSilicon's recently announced Renegade and Nitro devices, making it available at a lower price point aimed at power users in the financial services, science, and engineering sectors, as well as creative professionals who need fast, high-capacity storage for digital media.
"These are the devices that IT managers and prosumers have been asking us to make ever since we launched our range of ultra-performance Nitro and Renegade SSDs," said Jason Breakstone, founder and CEO of pureSilicon. "The Kage Series devices will appeal to anyone that craves more performance and storage capacity from their solid-state drive but doesn't need ruggedized packaging and advanced security features. We're particularly proud of the Kage Series USB, which delivers the essential benefits of an SSD in something the size of a USB drive, while offering high transfer speeds and 240 GB — all in killer packaging."
Kage K1 USB: a 4.5mm-thin flash drive that packs 240GB
The Kage K1 USB SSD features a USB 3.0 interface that brings new levels of performance and storage capacity to customers that need the ultimate in speed, capacity and portability. A novel USB-attached SCSI protocol provides 2-4x performance improvements over other devices on the market by queuing data commands in a fashion similar to that used in SATA and SAS drives. With data storage capacity of 240 GB, the Kage K1 USB offers the highest ever in a 4.5 mm form-factor.
Technical specifications: Kage K1 USB

Up to 240 GB usable MLC
USB 3.0 interface delivering up to 400 MB/s sequential performance
Impossibly thin: 4.5 mm
2X nanometer flash components
Dimensions: 76.75 mm x 22 mm x 4.5 mm (L x W x H)
Pricing starting at: $230 USD
Kage K1 SATA: aimed at power-hungry enterprise users in a broad range of applications
The Kage K1 SATA SSD is based on the technology and features found in pureSilicon's high-end Renegade SSD and Nitro SSD products, but employs eMLC NAND flash memory to bring PureSi's reliability and performance to a wider audience. The Kage SATA series delivers 6 Gb/s and includes a proprietary power supply design called VoltStream™ that monitors power quality and uses solid-state capacitors to provide energy during a host-side power failure.
Technical specifications: Kage K1 SATA

Up to 400 GB usable eMLC: high capacity and reliability
Up to 60K random read and random write IOPS – great for small block-size, system-level workloads
SATA 6 Gb/s interface delivering up to 540 MB/s sequential read, 520 MB/s sequential write
Self-encrypting drive for data security
VoltStream: an innovative technology that monitors power quality and provides a safe power-fail mechanism using solid-state ceramic capacitors
Dimensions: 100.5 mm x 69.85 mm x 7.0 or 9.5 mm (L x W x H)
Pricing starting at: $975 USD
Energy-efficient and planet-friendly
pureSilicon is committed to energy efficiency and designs storage products that yield high performance per Watt. Whether the goal is to increase productivity in a mobile environment or reduce energy costs in a datacenter, deploying pureSilicon SSDs will help achieve these objectives. Legacy storage products such as hard disk drives are becoming less energy-efficient as manufacturers strive for higher performance, whereas SSDs offer superior performance and scalability, with lower energy consumption.
Availability
Both products will be available for pre-order today on http://www.puresi.com, and will begin shipping in late Q1. Volume orders should contact our sales team directly at sales(at)puresi(dot)com.
About pureSilicon Inc.
pureSilicon is redefining storage by developing leading-edge solid-state storage devices based on flash memory technologies, including the world's first 1-terabyte 2.5-inch SSD. By delivering products that yield unprecedented performance, storage density, and data security, pureSilicon is able to address the growing storage needs of the military/defense, industrial, and enterprise server markets. Headquartered in Golden, Colorado, the company specializes in developing leading-edge solid-state drives (SSDs) that meet the demands of the most discriminating applications. pureSilicon offers an extensive line of flash-based memory solutions specifically designed for defense contractors, original equipment manufacturers (OEMs) and original design manufacturers (ODMs). For more information visit http://www.puresi.com, or follow us on Facebook and Twitter @puresi.
###