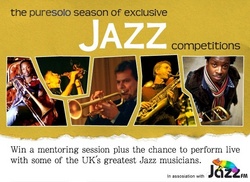 "I have been blessed with the chance to work with some of the finest musicians in the world and I can't wait to work the new talent that will be discovered in this series of competitions." Snake Davis
(PRWeb UK) April 1, 2010
For most budding jazz musicians, the thought of performing with some of the genre's biggest stars is a pleasant daydream - but one that is seemingly unattainable.
PureSolo and Jazz FM have teamed up to make that dream a reality for a chosen few, in a unique series of competitions that will culminate with six winners being mentored by, and performing live with, three of the UK's finest Jazz musicians: Snake Davis, Dennis Rollins and Steve Waterman.
Competition entry requires contestants to record themselves singing or playing along with the artists' original backing tracks using the online recording platform at PureSolo.com. Following submission to the site, entries can be played and rated by other web users.
The eventual winners will be chosen by a panel and invited for a mentoring session with Snake, Dennis or Steve; before going on to perform with the artist at one of a series of gigs at select venues including the Pizza Express Jazz Club in London's Soho and the Hay Festival.
PureSolo co-founder John Thirkell, himself an ex-member of both the Gil Evans Orchestra and Buddy Rich Band, says "PureSolo provides a great platform for musicians to record and share their talents, and what better way to develop and extend that sharing than to have the opportunity to play with some of the biggest stars in jazz at such world renowned venues."
Richard Wheatly, Chief Executive of Jazz FM says "At Jazz FM we're always on the lookout for innovative ideas to offer to our listeners as well as different ways to promote new jazz talent. We think PureSolo is a great way for budding musicians to share in the jazz music experience and as such, we are very excited to be working together on this project."
The competitions will run as three separate events ending in June. Entry is at http://www.puresolo.com.
###