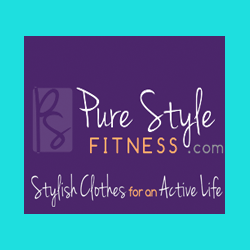 Fitness wear is more than just for inside the gym, but for an everday, active lifestyle!
Chicago, IL (PRWEB) November 22, 2011
Pure Style Fitness has joined the e-commerce world of fitness apparel and accessories. Pure Style offers quality brand names, from Alo Sport, Green Apple, Jala Clothing, Doce Vida, Born Fit and many more.
Many of the products offered by Pure Style Fitness are made of organic materials and right here in the USA. Supporting local businesses is an important value of Pure Style Fitness and they look to work with vendors who share their common value. Check out Green Apple and Alo for organic materials and Jala Clothing and Urban Yogis for clothes made right here in the USA.
Pure Style Fitness has built their product lines on the idea that fitness wear is more than just for inside the gym, but for an everyday, active lifestyle. Pure Style Fitness offers stylish clothes that can be worn every day to keep you comfortable while living your busy, active life.
About Us: Pure Style Fitness was started to provide stylish clothes for active people. It offers gym-goers a wardrobe selection that they can wear at the gym, to and from the gym, or out and about. The versatility of the product lines are what sets Pure Style apart from other athletic apparel companies. Also, Pure Style offers free shipping making it a less expensive way to receive name brand products.
Along with the typical fitness and yoga apparel, Pure Style Fitness also has a line for men and for pregnant women. Offering maternity workout clothes sets Pure Style apart from most of your typical fitness brands. These designer workout clothes are made for a growing belly.
Overall, Pure Style Fitness is passionate about fitness and fashion; when combined, each person will feel confident.
###