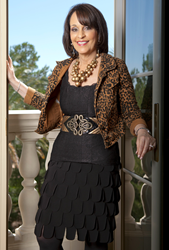 It's so important to have your play book in hand guiding you towards your profitability.
(PRWEB) August 25, 2014
PURE WEALTH: 26 Ways to Crazy Profitability is an anthology by 26 female entrepreneurs and business women with practical advice on growing a new company or revitalizing an old one. The book was launched through Next Century Publishing on July 1, 2014. Since that time, the book has experienced growing sales and rave reviews on Amazon.
As seen on the book's Amazon page, readers have noted that the book has helped them to better understand the methods that successful business owners use to increase profitability. According to Melissa Tosetti, "Pure Wealth is a guidebook to profitability, bringing together 26 different business experts and pooling their sage advice." Esther Spina says, "I love that women have come together and written this book encouraging other women to stay the course and showing them how to become profitable." According to Don Taylor, "Pure Wealth is a collection of many stories, lessons and revelations about women and their personal journey to success. It is a MUST READ for both men and women who want to understand what moves women in today's business world to action while balancing their lives."
Anthology leader Judy Hoberman encourages people to read the book to guide success in the last half of the year. The holidays, according to Hoberman, can be a difficult time for some businesses. She believes that growing a business throughout the holidays and taking part in every sale and opportunity for growth is pivotal. "It's so important to have your play book in hand guiding you towards your profitability," says Hoberman.
PURE WEALTH shares the insider secrets of successful business women and helps others use these secrets to obtain and maintain and healthy bottom line for any business.
About Judy Hoberman:
After nearly 30 years in the sales side of business, Judy Hoberman has seen a variety of techniques come and go, delivering flash without substance and ultimately leaving adopters high and dry. After completing her position as an award-winning training director, Judy has taken her career on a new path as a successful speaker, consultant and entrepreneur, addressing the differences in sales techniques between men and women, and the advantages of a female-focused approach. Now, Judy is a sought-after author of 3 novels, Selling in a Skirt; Famous Isn't Enough; PURE WEALTH: 26 Ways to Crazy Profitability.