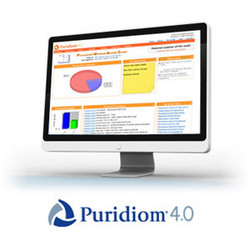 The release of Puridiom 4.0 is a reaffirmation of Puridiom's dedication to its customers and continues our legacy of innovation and technological advances in the procurement field
Mechanicsburg, PA (Vocus) April 30, 2010
Puridiom, a leading provider of Procure-to-Pay Spend Management solutions introduced the newest release of the Puridiom Enterprise solution at the 95th Annual International Supply Management Conference and Educational Exhibit, held in San Diego, May 25 – 28, 2010.
The e-procurement provider showcased Puridiom 4.0 which includes many new features and enhancements that resulted from client interactions and suggestions. Version 4.0 has an updated look, faster and easier navigation, as well as new internet shopping and additional system administrative enhancements.
Two new modules to the Puridiom Procure-to-Pay suite have also been added in this newest version; Travel Management and Enhanced Asset Management. The new Puridiom Travel Management solution offers a unique approach to travel management by applying proven procurement practices to corporate business travel, helping businesses to implement and adhere to an effective travel management policy. Puridiom Travel Management (PTM) will enable corporate clients to reduce their overall travel spend by up to 30%, combining the efficiency of self booking with the expertise of easily accessible travel agents. The Enhanced Asset Management module will enable users to track and manage an asset's status, movement and/or location, along with any additional costs or services associated or required to the asset.
"The release of Puridiom 4.0 is a reaffirmation of Puridiom's dedication to its customers and continues our legacy of innovation and technological advances in the procurement field," says Jesus Ramos, Puridiom President and CEO.
Puridiom 4.0 is available May 3, 2010. Previews were available at the Puridiom Surf Center, Booth 415, at the International Supply Management Conference and Educational Exhibit, San Diego, May 23 – 25, 2010. Additional information can be found at the Puridiom website, by email, or by calling 1.800.388.1415.
About Puridiom
Puridiom, a leading Procure-to-Pay solution provider, offers complete web-enabled purchasing solutions. Puridiom has been in the e-Procurement field for 27 years and has a proven success record for implementation and operation. They have enabled thousands of users in vertical markets worldwide, including insurance, financial, and service organizations. Puridiom's advanced solutions help support a wide variety and cross-section of global businesses. Combining feature-rich software, experienced professionals, proven implementation techniques, and unparalleled services, Puridiom delivers the highest quality e-Procurement solutions. For more information, call 800-388-1415 or visit their website.
###