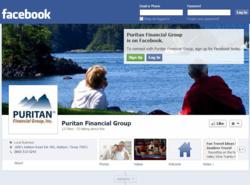 Puritan is refreshing our online presence to give our clients interactive choices on financial information that matters to them.
Addison, TX (PRWEB) February 26, 2013
The Puritan Financial Group announced today the re-launch of its portfolio of Social Media website, including Facebook, LinkedIn, and Twitter. In order to reach its customers and clients in the web medium of their preference, the Puritan Financial Group created a suite of social media sites to provide up to date company information on its products and services in the rapidly changing online financial world.
The portfolio of Puritan social media sites includes the following:

The Puritan Facebook page currently has over 120 "likes" and includes pictures and videos on relevant financial topics. The "likes" include many personal pages as well as many corporate pages, including Texas Living, Insiders Travel Magazine and the Texas Department of State Health Services. The video section contains a Medical Supplement Review on rates as the can fluctuate up to twice a year. The most active part of the Facebook page is the posting or feeds section with hundreds of posts. Topics range from financial questions to matters of health and fitness, and medical coverage issues for seniors.
For those individuals not on Facebook, there are number of other public sites to get current Puritan Financial Group information. For agents and brokers, the LinkedIn page provides strong content on Puritan's company and links to employees and agencies. Google Plus gathers much of the online information and gives reviews and ratings from clients. Twitter and PR Web delivers up to date tweets and official news on the company. The blog pages are yet another source of public information and venue for Puritan Financial Group keeping the company in step with online media.
A spokes person for Puritan commented that, "Puritan is constantly refreshing our online presence to give our clients choices about how to find us and interact with us." He added that, "As a new generation of experienced internet users retires, they will expect to deal with a financial services company in the venue of their choice. Puritan will be ready for that future."
About Puritan Financial Group
Puritan Financial Group Inc. is a group of companies focused on serving the financial needs of retirees and those approaching retirement age. Puritan works in financial advice for the experienced investor, supplying investment advice, financial services and insurance products designed to offer you low-risk solutions, competitive rates and positive returns.