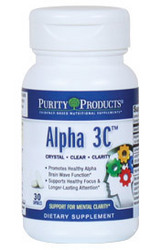 Plainview, NY (PRWEB) July 1, 2010
Purity Products®, a leading direct-to-consumer provider of premium dietary supplements, announces the release of their new Alpha 3C™ formula, designed to naturally support focus, calmness and relaxation.
Alpha 3C™ is a dual action stress-management formula that combines patented Suntheanine® which stimulates the activity of relaxing alpha waves, and Lactium® a patent-pending ingredient shown to reduce stress response in the brain. Together, these two evidence-based ingredients provide a wide range of complementary benefits that will appeal to consumers desiring a safe and natural alternative for both stress reduction and focus.
According to Jahn Levin, President of Purity Products, "We're excited about Alpha 3C™ because the research solidly shows it promotes what we are calling "Crystal Clear Clarity™", safely and with a great safety profile. Jason Kam, VP of Product Development added "For consumers concerned about the impact of stress on their cognitive function and mental acuity, particularly their focus, these well-substantiated ingredients are the ideal solution."
To learn more about the Alpha 3C™. and Purity Products®, please visit our website at http://www.purityproducts.com.
###