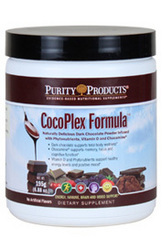 Plainview, NY (PRWEB) May 28, 2010
Purity Products®, a leading direct-to-consumer provider of premium dietary supplements, announces the release of their new CocoPlex™ Formula.
Chocolate remains one of America's favorite forbidden foods. But all that may change with the introduction of CocoPlex. While the health benefits of cocoa have been well established, millions eat unhealthy types of chocolate and miss out on its benefits. As the scientific data supporting cocoa's health benefits grows, so has the market for dark chocolate functional drinks. To meet this growing demand, Purity Products has developed CocoPlex™, a powdered supplement that harnesses the natural power of cocoa, and amplifies it with Chocomine®, a patented cocoa extract well-researched for its range of cognitive benefits. Clinical studies reveal that Chocamine®, an extract of dark cocoa, supports cognition, sharp focus and mental acuity.
Research also shows that certain compounds in chocolate may cause the brain to release endorphins, natural chemicals that provide a variety of "feel good factors."
Jahn Levin, CEO of Purity Products explains, "CocoPlex ushers in a new era. It is the convergence of the sinfully delicious and functionally nutritious -- all in one. Between its naturally occurring, wellness boosting cocoa-polyphenols, and the brain supporting benefits of Chocomine® there is no reason to feel guilty when you enjoy your daily dose of chocolate. Feeling good has never been easier!"
Each scoop of CocoPlex™ is reinforced with phytonutrient and super fruit berries, and with rich dark chocolate flavor without the fat, calories or dairy found in chocolate candy.
To learn more about the CocoPlex™ Formula and Purity Products®, please visit their website at http://www.purityproducts.com.
# # #