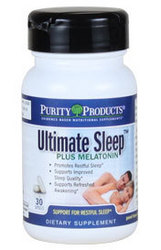 Plainview, NY (PRWEB) June 14, 2010
Purity Products®, a leading direct-to-consumer provider of premium dietary supplements, announces the release of their new sleep health supplement, Ultimate Sleep™ Plus Melatonin.
Ultimate Sleep™ Plus Melatonin is yet another advancement in science of supporting healthy sleep via natural ingredients. Ultimate Sleep™ Plus Melatonin is a triple action formula with Suntheanine®, Lactium®, and Melatonin designed to help people fall asleep faster, sleep more soundly, and awaken revitalized. Both Lactium® and Suntheanine® have been well researched separately in dozens of clinical studies with statistically significant results.
Jason Kam, VP of Product Development said "In terms of safety and efficacy, these are three of the best sleep and relaxation supporting ingredients available in the marketplace today. Certainly the addition of melatonin to the line will appeal to a large segment of our customer base."
To learn more about the Ultimate Sleep™ Plus Melatonin and Purity Products®, please visit our website at http://www.purityproducts.com.
# # #