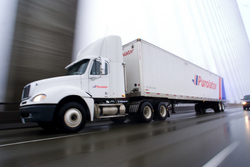 Speed, accuracy and accountability are absolutely critical to our e-commerce partners
Jericho, NY (Vocus) September 16, 2009
Purolator USA, a leading provider of cross border logistics, has introduced a series of new tools designed to improve shipment visibility and tracking capabilities. These new, web-based features will ensure 24/7 visibility, which will be of special importance to e-commerce retailers, who will be able to offer their customers real time status and tracking updates.
"Speed, accuracy and accountability are absolutely critical to our e-commerce partners," says Purolator USA Director of Sales John Jensen. "A consumer clicks the 'send' button on their computer, and expectations are high that the merchandise they ordered will arrive in a few days. If those expectations are not met, consumers will simply shop elsewhere next time."
Purolator recently introduced a new client portal to customers, which offers significant enhancements to its tracking capability. Through the client portal, customers have complete oversight of their shipment's chain of command as well as to customs documentation and transit updates. The portal also offers customers access to their billing and shipping histories.
E-commerce businesses also recognize Purolator's seamless delivery capabilities throughout Canada. Unlike most cross border logistics providers, Purolator maintains an extensive distribution network throughout Canada. This means that a shipment is able to travel from the U.S., across the border and to its final destination without ever leaving Purolator's scope of control. "Our customers never have to wonder where their package is," says Jensen. "With Purolator, visibility is always just a mouse click away."
Purolator's presence throughout Canada also means that there is very little interference from "blackout areas" that may affect other carriers that do not have the same level of investment in their Canadian routes. Regardless of where a package is headed – even to the most remote regions of Canada – a manufacturer will have 24/7 tracking capability.
Purolator maintains a team of customer service representatives who develop customized logistics plans that take into account each customer's unique needs. E-commerce businesses, because of their specific logistics needs, are able to take advantage of Purolator's wide range of delivery options and flexibility.
For more information about Purolator USA, please visit http://www.purolatorusa.com.
About Purolator USA
Purolator USA, Inc. is a subsidiary of Purolator Courier Ltd, Canada's leading overnight courier company. Purolator USA specializes in the air and surface forwarding of small packages and freight shipments, customs brokerage and delivery to, from and within the North American market.
In addition to its facilities throughout New York State, Purolator USA has expanded into several key markets including Los Angeles, Seattle, Chicago, Detroit, Dallas/Ft. Worth, Philadelphia and Raleigh/Durham.
###