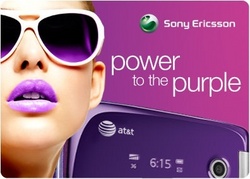 Purple has been ignored for too long while other popular colors such as pink, yellow and black seem to get all the attention
RALEIGH, N.C. (PRWEB) July 8, 2008
To join the Purple revolution, consumers can register at BringingPurpleBack.com and be entered to win a Z750a or the grand-prize, a pair of designer shoesa worth $600.b To further demonstrate their Purple passion, consumers are encouraged to take pictures or shoot videos illustrating how they are bringing purple back to prominence and add them to their favorite social networking site. Then they simply submit the link at BringingPurpleBack.com, where the best purple power pictures and videos will be posted. Additionally, consumers can pledge their allegiance to Purple at the Bringing Purple Back Facebook Fan Page.
"Purple has been ignored for too long while other popular colors such as pink, yellow and black seem to get all the attention," said Karen Morris, vice president of marketing, Sony Ericsson North America. "With this campaign, we hope to remind the world just what an exciting and appealing color Purple really is, and we want to give Purple lovers a way to share their passion for this underappreciated color. At Sony Ericsson, we are meticulous about design and color, and the fact that Purple is a growing favorite among 'fashionistas' is yet another indication that it is time for Purple to have its day."
Available in the U.S. exclusively through AT&T, the Sony Ericsson Z750a has a mirrored clamshell design with a hidden exterior display that comes to life when the phone is in use. The Z750a features mobile broadband for a high-speed Internet1 connection and access to multimedia content that complements its multimedia player, 2.0 megapixel camera, Internet1 browser and e-mail2 capability using AT&T's Mobile Email application. The Z750a also can be purchased in Phantom Grey and Rose Pink, and is available at AT&T stores and authorized dealers.
For more information about Purple or the Z750a, please visit http://www.BringingPurpleBack.com.
Legal
a Grand prize to be awarded in the form of an American Express gift card.
b NO PURCHASE NECESSARY. Open to legal residents of the 50 United States/DC, 18 years of age or older. Sweepstakes begins 12:00:01 a.m. EDT on 7/5/08 and ends at 11:59:59 p.m. EDT on 8/4/08. See Official Rules at http://bringingpurpleback.com/purple/?page_id=20 for more details.
1 Internet services may require a fee. As with all wireless products, actual performance will vary depending on environment.
2 Compatible wireless service required for some features. Additional charges may apply. See service provider and rate plan brochure for details.
Having sold over 100 million phones in 2007, Sony Ericsson is currently one of the five largest mobile phone manufacturers in the world. An important industry player operating in over 80 countries, our phones, accessories and PC cards are synonymous with innovation and style. With R&D sites in Europe, Japan, China, India and North America, diversity is one of the core strengths of the company. Sony Ericsson was established as a 50:50 joint venture by Sony and Ericsson in October 2001, with global corporate functions located in London. For more information about Sony Ericsson please visit http://www.sonyericsson.com.
MULTIMEDIA GALLERY http://www.businesswire.com/cgi-bin/mmg.cgi?eid=5725040