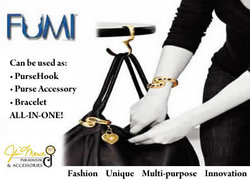 San Diego, CA (Vocus) August 5, 2009
San Diego sisters and original inventors Nichole and Natascha Shamlian win prestigious award for their unique patented purse hooks bracelet known as the FUMI - as seen at http://www.theFUMI.com.
This green-friendly product is perfect for the mom to keep her diaper bag off the restaurant floors, the pet-lover to hold her pet handbag in place, the woman-on-the-go who loves the unique bracelet function, the organic ladies who gravitate towards green-friendly products… and for any fashionista who is inevitably fashion-forward and style-conscious. The FUMI is the perfect gift for ANY person or occasion.
The Canadian Gift and Tableware Association bestowed the esteem honor to the sisters naming the FUMI as "Top 10 Products for 2009" for originality, design esthetics, functionality, quality and overall market potential. All products that were introduced to the Canadian marketplace in 2008 and 2009 were judged by a panel of Canada's Top retailers. The Shamlian's will receive the coveted award at the CTGA Top 10 Awards Dinner which celebrates excellence on August 10th and will be displaying the FUMI at the CTGA Fall 2009 Gift Show August 9-12 with Canadian Gift Concepts Corporation.
Nichole and Natascha started their family owned business Je'Marie PurseHook and Accessories (named after their mother) with their father three years ago after Nichole found a 1940's Purse Hook at an estate sale in San Diego. After quickly rising to be the leaders of their industry, they created and patented the FUMI, a PurseHook that clips on the outside of your handbag as a beautiful accessory, can also be worn as a bangle bracelet and then of course used to keep your handbag off the floor.
The FUMI - Fashionable, Unique, Multipurpose, Innovation. This new product is the top of the line PurseHook accessory made of 100% Recycled metals and rubber backing. With one-of-a-kind names such as "Radiant" and "Confident" the FUMI keeps in touch with the bearer's inner beauty as well. The FUMI retails for 24.95. Their many products are carried in select retail locations worldwide, you can also find their products online at http://www.theFUMI.com.
To feature the FUMI in your publication or media outlet, please contact ChicExecs PR at press@chicexecs.com or 760.992.9113.
ChicExecs PR
http://www.ChicExecs.com
press (at) chicexecs (dot) com
1487 Poinsettia Ave Ste 125
Vista, CA 92081
760.992.9113
###