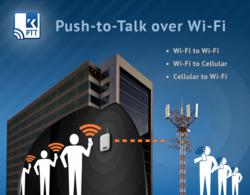 Kodiak's new release supports PTT over Wi-Fi networks and LMR interoperability which is a viable alternative for LMR business users.
Plano, TX (PRWEB) June 12, 2013
Kodiak Networks, Inc., the leading Push-to-Talk provider for mobile operators, announces major enhancements to its cloud-based Enterprise applications platform that significantly improve the instant communications experience for end users across four key areas: coverage, interoperability, security, and performance. The company has delivered a robust set of new features and capabilities designed to increase productivity, simplify operations, and reduce costs, which include:

Wi-Fi Network Coverage - Expands wireless network support from 4G LTE, 4G HSPA+, and 3G to Wi-Fi. Allows end-users to leverage enterprise Wi-Fi access points and carrier-deployed hot spots for PTT-enabled handsets, Kodiak dispatch console, and PC-based PTT client. The addition of Wi-Fi support maximizes in-building coverage and reduces international communications costs.
LMR Interoperability - Enables interoperability with Land Mobile Radio (LMR), allowing existing LMR users to have seamless connectivity to PTT over cellular and leverage mobile broadband data capabilities of today's 4G networks without carrying two separate devices. Kodiak-powered PTT is interoperable with a number of open standard radio system technologies including Analog, DMR, P25, NXDN, TETRA, and others.
Enhanced Security - Delivers PTT security through voice and signaling encryption, using the Advanced Encryption Standard (AES) 128/256. The AES implementation provides end users with unparalleled protection of sensitive communications.
Broad PTT Device Support - Provides end users with the broadest choice of PTT-enabled devices that include low-cost feature phones, Android-based smartphones, BlackBerry, Windows Mobile handsets, and Windows PC.
Purpose-Built Push-to-Talk Accessories - Supports multiple types of accessories, giving end users the option of many different PTT-enabled mobile phones and third-party devices. Accessories such as standard and Bluetooth remote speaker microphones, headsets, surveillance earpieces, as well as, purpose-built dispatch accessories like headsets and foot pedals are available.
Kodiak-powered Push-to-Talk also offers additional features including: privacy mode, contact list sorting and filtering, improved home/history screen interface, contact capacity display, and a Wi-Fi select setting for Android phones.
"With the shutdown of iDEN service, Kodiak-powered PTT provides former Sprint/Nextel users with a compelling platform offering that truly exceeds their previous iDEN service capabilities," shares Andrew M. Seybold, principle of Andrew Seybold, Inc., "Kodiak's new release supports PTT over Wi-Fi networks and LMR interoperability which is a viable alternative for LMR business users."
"Kodiak is committed to serving the PTT community which requires high-quality, instant communications with robust features and functionality that span the unique needs of a variety of market verticals," says Bruce Lawler, Co-Founder and Chief Marketing Officer, Kodiak Networks. "PTT that seamlessly operates on Wi-Fi and the cellular network is a first for the wireless industry. The combination of Wi-Fi and encryption allow us to improve in-building coverage, reduce international PTT calling costs, and meet the end-to-end security demands of our expanding user base."
About Kodiak Networks
Kodiak Networks is recognized and respected globally as a leading wireless innovator that develops integrated enterprise productivity applications for mobile operators. Today, Kodiak has the largest Push-to-Talk network footprint in the world, with deployments across a number of carriers in North America, Latin America, and Europe. For more information please visit Push-to-Talk by Kodiak, http://pushtotalkbykodiak.com or Kodiak Networks, http://www.kodiaknetworks.com.