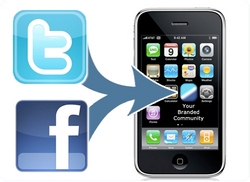 Easily Transform your business Facebook Fan Page and Twitter Account into a branded iPhone App for under $300
Santa Ana (PRWEB) February 16, 2010
With the recent announcement of Apple's iPad, media and social media continue to develop as low cost, yet highly effective ways for businesses to stay in contact with their clientele and prospective new customers.
While Twitter and Facebook are free for businesses to use, mobile media channels like the iPhone and Android App Stores are too costly for businesses to adopt. Building an iPhone application requires hiring a fancy mobile ad agency or development team, with investments potentially reaching up to $50,000. The high cost and hassle of building mobile applications has kept them out of reach for most businesses, and Push to Customers is here to change it.
Founded by Stanford graduate and former Google employee Mark Otuteye, Push to Customers aims to allow businesses to create, publish and maintain their own branded iPhone or Android application - all for a fraction of the cost.
Built around existing brand communities, each Push to Customers application comes with Facebook Connect, Twitter, one-on-one messaging, and "push" messaging options for businesses to stay in contact with customers on the go. Being technologically connected doesn't have to come with a high price. And as businesses of all shapes and sizes struggle through this current climate time, it's good to know that at least one start-up in Silicon Valley is working to help!
# # #