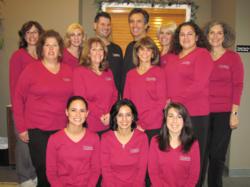 We want our patients to feel like part of our family
Brewster, NY (PRWEB) December 05, 2012
Dr. Carl Ern, is a celebrity dentist who has been nationally featured on CBS, NBC, & FOX as a sedation dentistry specialist. Dr. Ern is now scheduled to co-authoring a new business book titled, "Leading the Field: Strategies, Advice & Inspiration From World Class Experts". Advanced training keeps Dr. Ern at the forefront of technology and he has over 1000 hours of continuing education in the specialty of sedation dentistry.
It may sound too good to be true, but at Putnam Dental Associates P.C., sedation dentistry with Dr. Carl Ern really does help a patient relax, or in some instances even sleep, through their entire visit. There are no needles involved; it is simply a small pill to be taken prior to one's visit. Dr. Ern says, "Wouldn't it be wonderful to never dread the dentist again? That's only one of the many benefits of Brewster sedation dentistry at Putnam Dental Associates P.C.. And if it's been a while since your last dental visit, we can correct any resulting damage or decay, usually in just one or two visits." Comfort, relaxation, and a healthy mouth are all courtesy of sedation dentistry. "Don't wait another moment if a dental phobia has kept you from getting the care you deserve!" says Dr. Ern.
A patient's needs and wants are top priority at Putnam Dental Associates. Dr. Ern realizes the importance of patient care and strives to be current in continuing dental education in order to provide top notch service. This is one of the many keys to success that Dr. Ern will share in this new book.
Dr. Ern is excited to be participating with other leading experts and best-selling author Robert Vitelli, to provide readers with useful and practical information about how to succeed in various professions, through this new book.
Putnam Dental
Betsy or Carl Ern
PutnamDental (at) Comcast (dot) net
(866) 927-8832
http://www.PutnamDental.com
"We Support The H.O.M.E. Foundation"
About The H.O.M.E. Foundation:
The Helping Others Means Everything, or The H.O.M.E. Foundation, is a not-for-profit organization dedicated to helping our Family of Charities. Frankie Verdugo, President of The HOME Foundation, wants to help as many worthy charities as possible as they struggle during these tough economic times. Frankie Verdugo helps raise funds through luxury dream home raffles, home giveaways, prizes, and high profile celebrity events in Hollywood... "Our mission is to help charities reach their fundraising goals and to bring awareness to their praiseworthy causes."