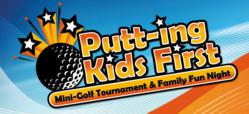 Joseph Blair, Executive Director expresses his excitement, "I look forward to this becoming one of our long-standing, signature events that will help us continue to..."
Tucson, AZ (PRWEB) April 02, 2013
Sure to become a reason Tucsonans look forward to spring, Blair Charity Group presents the first annual "Putt-ing Kids First" Miniature Golf Tournament and Family Fun Night. Saturday evening April 6th, kids of all ages and their family and friends are invited to Golf 'N Stuff to compete in an exciting mini golf tournament for fun prizes and awards. Tee-off for golfers is at 5:00pm, and check-in's at 4:30pm. There will be food and refreshments all along the course for all competitors, and it won't just be mini golf. All other incredible Golf 'N Stuff attractions will be open to the participants at no extra charge.
General admission tickets will be available at 6:00 pm, with which guests have all the amenities of Golf 'N Stuff at their disposal like bumper boats, go-carts, video games, batting cages, and laser tag. There will also be a petting zoo and face painting, a raffle and silent auction, and, for the adults, there will be DJ-spun music and a beer garden to relax in.
All proceeds from "Putt-ing Kids First" will go to benefit the Arizona Basketball Academy, who provides free camps and clinics to Southern Arizona youth. Support for "Putt-ing Kids First" comes from Blair Charity group and Nuanced Media, a full-service new media marketing firm helping Tucson businesses grow in a modern online marketplace.
Nuanced Media is excited to be a part of the 1st Annual "Putt-ing Kids First" Mini Golf tournament. Families from across Southern Arizona will spend a wonderful night enjoying family-centered events. As proud a sponsor wishing to help the youths of Southern Arizona, Nuanced Media encourages families and friends across the Greater Tucson area to join in for a fun-filled night of mini golf and many other exciting activities.
Nuanced Media offers a range of services to connect and streamline Tucson businesses. With creative and effective website design, Nuanced Media makes elegant, informative, and search-engine-friendly websites which lure in prospective customers. And Nuanced Media works to make your company a competitive force in the online world by creating a specific and effective marketing plan and focusing on making your business a strong presence on the web.
To register or for more detailed information please visit http://www.putt-ingkidsfirst.org or call 520-303-5604.
First annual "Putt-ing Kids First" Miniature Golf Tournament
Who: Everyone! Families and friends interested in Mini-Golf, go-carts, laser tag, bumper boats, batting cages
What: Mini Golf tournament
Where: Golf N Stuff, 6503 E. Tanque Verde Road
When: Saturday April 6th 2013
Schedule of event:
4:30pm first golfers check in
5:00pm tee off for first golfers
6:00pm open for General admission and Second heat golfers check-in
7:00 pm tee off for second heat golfers
9:30pm silent auction closed
About Nuanced Media:
Nuanced Media is a revolutionary marketing, website design and business consulting website. We pride ourselves in our hard work and dedication to drive more consumers towards your webpage. Through social media marketing, search engine optimization, and personalized graphic design we ensure that your company will love our work.
Follow us on Facebook and Twitter