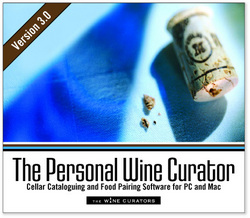 It's incredible. Not only does it make adding wines to my cellar much easier, I have really enjoyed being able to read other users' notes and to share my thoughts on wines I've enjoyed.
Los Angeles, CA (PRWEB) November 26, 2008
If many hands make light work, then imagine what all those fingers could be doing to help out. If it's entering data, so much the better for those of us who get to reap the benefits of all that digital cooperation. In the ongoing quest to minimize our time while maximizing our efficiency, data entry has usually been the hob goblin of our noblest ambitions to finally get organized. We may envision a divine tome of order and perfection, but without the abbey full of scribes to do the work, what we end up with is more like the Rough Guide to Chaos and Confusion.
32,000 Wines Added
Well, in the one month period since the introduction of the Personal Wine Curator Community, many hands are indeed at work, and the results are impressive. Over 32,000 wines have been added to the online wine database by the very people who collect the wines - wine collectors! - and the number keeps growing. The PWC Community, as it is termed by its creators, John Allee and Joshua Beckett of The Wine Curators, receives wine information from users of the Personal Wine Curator wine software who choose to opt in so that all participating users can easily look up a wine and quickly import the data into their own cellar list. It also allows them to share tasting notes and identify themselves with a user handle.
Inventory Upkeep
For wine enthusiasts such as Dan Swanson, of Burnsville, Minnesota, the challenges of inventory upkeep can be daunting. "I took great pride for some years in being able to tell my wife, often over the phone, exactly where she could find a particular bottle of wine in our cellar," he says. "However, when our collection swelled to over 500 bottles, it became increasingly difficult to remember each bottle and its whereabouts." Not only was Dan overwhelmed by the size of his collection, but another unfortunate issue arose as a result of not cataloguing his wines in a database. "We found that we were skipping over a number of our bottles and drinking them past their prime," he adds. Given the state of the Dow Jones industrial average these days, the sting of losing out on even the investment of a bottle of wine is especially cruel.
Meeting the Challenge
Mr. Swanson and many others like him have met the challenge head on by using a software program designed specifically to deal with the unique requirements of cataloguing wines. Fred Fletcher, a collector from Pasadena, California mentions that since he began using The Personal Wine Curator (which operates on either PCs or Macs) "I definitely know my wines better because of the organization this application brings." Mr. Swanson agrees. "Now locating is a breeze, as is identifying 'drink now' bottles and evaluating the cellar for insurance purposes."
Bringing Users Together
If the number of wines being added to the PWC Community is any indication, a contributing factor to the ease of their wine cellar organizing is also what brings users like Mr. Swanson and Mr. Fletcher together, even while they remain unknown to each other. Tom Hoekstra, who keeps track of his collection in Grand Rapids, Michigan, has been using The Personal Wine Curator "for about a year now." He especially likes the PWC Community feature included with the new version of the program. "It's incredible. Not only does it make adding wines to my cellar much easier, I have really enjoyed being able to read other users' notes and to share my thoughts on wines I've enjoyed." Perhaps these three wine enthusiasts will come to recognize one another's online handle and begin to appreciate the similarities (or differences) in their personal tastes - maybe even to the point where they influence each other's buying habits.
###