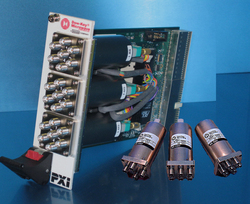 Ventura, CA (PRWEB) September 17, 2008
Dow-Key Microwave is pleased to present its new addition to the PXI Switching Module Series - a 2U slot reconfigurable PXI module which can be assembled with up to (3) high density 26.5 GHz switches - the 12K3S-Series. Given that the same platform is used, available configurations are non-terminated normally open dual SPDT, Transfer (DPDT), SP3T, and/or SP6T electromechanical switches. Dow-Key's PXI card is supplied with IVI drivers and is compliant with LabView, LabWindows, and Visual Basic software programming.
The PXI Switching Module 12K3S-Series are designed to provide solutions to complex broadband RF/Microwave signal routing and switching applications. Each module operates with less than 1 dB insertion loss over the range of DC to 26.5 GHz and each RF switch has an extended switching life of 2 million cycles. Moreover, the module occupies 2 slots of a 3U PXI National Instrument chassis.
This reconfigurable platform is well suited for wide selection of switching applications for inserting and removing components in signal paths. In addition, since only the first left slot in a chassis requires electrical connection, the unit can be used in a low cost version with extension slots if desired.
# # #