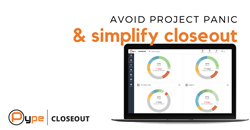 "We have an amazing road map for Closeout which will establish Pype as an industry standard platform for automating all workflows during the project closeout process." - Sunil Dorairajan, CEO & Co-Founder
WASHINGTON (PRWEB) March 13, 2019
Pype Inc. has launched the new version of their Closeout solution - a single portal for closeout documentation management that helps general contractors achieve closeout compliance and get paid faster.
The newest generation of Closeout boasts a redesigned interface and enhanced feature-set that is the direct result of user feedback. "We maintain a constant conversation with our customers and implement suggestions from projects ranging from $1MM to $250MM. Their invaluable feedback helps us innovate our products to fit mission-critical workflow issues in the industry," says Karuna Ammireddy, CTO and Co-Founder of Pype.
Existing ENR customers like Build Group and Layton Construction are already seeing significant closeout process standardization and ROI using Closeout. The new release expands on existing features and allows them to utilize additional functionality that incorporates their feedback.
New Features include:

Customizable dashboards
New seamless integrations with BIM 360, Procore, Box, Dropbox, Egnyte and more
Enterprise reporting
Powerful email automation
Automatically generate turnover packages
Several top ENR companies who participated in our beta and are excited about the final product release. Shook Construction, top ENR general contractor and one of Pype's most recent Closeout partners, has put the dashboard feature to good use. "It took hours instead of days or weeks to get all critical information pulled together [for our project]. We could see all this from 30,000 ft via the Pype dashboard and evaluate where to focus our time," said Matthew Wendel, Project Manager at Shook Construction.
Sunil Dorairajan, CEO and Co-Founder of Pype, experienced the pain of closeout first hand while working in the industry. "I saw deep rooted problems surrounding the closeout process," he said. "Projects struggled with the collection of warranties, special warranties, O&M's, maintenance data, and many other facility critical documents." While researching the market potential for a solution that focuses on simplifying the closeout process, Sunil found that 90% of projects don't closeout on time. It was that staggering statistic that fueled the creation of Pype Closeout.
Pype experienced strong growth in 2018 and plans to build on that momentum for immense growth, in US and abroad, in 2019. "This is just the beginning of where we plan to take it," said Sunil. "We have an amazing road map for Closeout which will establish Pype as an industry standard platform for automating all workflows during the project closeout process."
Pype
Pype offers three proven SaaS solutions for the construction industry- AutoSpecs, Closeout, and eBinder - that enable teams to start projects faster and closeout stronger using automation and data analysis. Pype's patented machine learning platform helps construction companies digitize and view information relevant to several project planning tasks from bidding to closeout. Their solutions increase productivity gains across project management, quality control, and resource administration for the construction industry.