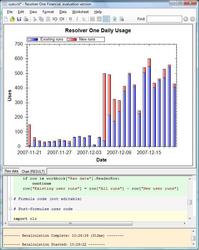 This will change the way businesses think about and use spreadsheets. So many of the problems of the traditional model -- poor database integration, and the lack of auditing, iterative analysis, or web-publishing -- are solved when you realize that any spreadsheet is, at heart, just a computer program
London, UK (PRWEB) February 18, 2008
today Resolver Systems and Astek Services announce the signature of a strategic partnership agreement to combine Resolver Systems's groundbreaking program, Resolver One ™, a data analytics and presentation tool using a familiar spreadsheet interface, and Astek's consulting and training services.
Resolver One ™ is a revolutionary improvement in spreadsheet systems. In Resolver One ™, the spreadsheet is a computer program. "This will change the way businesses think about and use spreadsheets. So many of the problems of the traditional model -- poor database integration, and the lack of auditing, iterative analysis, or web-publishing -- are solved when you realize that any spreadsheet is, at heart, just a computer program," said Giles Thomas, CTO and MD of Resolver Systems.
"With this Partnership," said Philippe Perret, MD of Astek Services, "we offer our clients a ground breaking Data analytics solution with Astek's proven delivery capabilities."
Resolver One ™ uses the Python programming language which was first released in 1991. Python is an easily learnable and highly expressive language with a rich standard library; it has been successfully used in a wide variety of applications, in businesses and in academia. Its clean syntax allows newcomers to become productive rapidly, while its more sophisticated features and built-in test framework allow experienced developers to build powerful tools which can adapt quickly to changing requirements.
About Resolver Systems:
Resolver Systems was founded in 2005 to produce a next generation spreadsheet. The founders, Giles Thomas, Robert Smithson and Patrick Kemmis, had all struggled with the challenges of running multi-million or multi-billion dollar businesses through poorly debugged spreadsheets. Their solution --Resolver One ™ -- seamlessly integrates a powerful and flexible programming language and a traditional spreadsheet environment. Already Resolver One has received extensive interest from companies in the financial, medical and academic communities.
About Astek Services:
Founded in 1998, Astek has become a major player in the field of New Technologies Consulting and Engineering. Today with over 3,000 consultants, our aim is to help clients reduce risk and achieve real business benefits through the effective application of technology.
Since 2003, our international presence helped expanding our focus on delivering results to clients on a global basis. Through these implementations, Astek has developed business process evaluation and engineering, organisational consulting, and extensive outsourcing services.
Astek's mission is to be the partner of choice for any company where technological innovation is key and requiring highly skilled professionals.
###