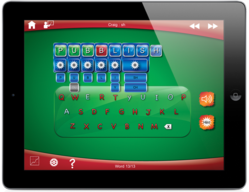 The app helps bridge the gap between phonemic awareness and phonics.
Edmonton, Alberta, Canada (PRWEB) August 30, 2012
Pyxwise Software is pleased to announce that Simplex Spelling Phonics 1 for iOS devices has earned the coveted Academics' Choice™ Smart Media Award.
The Academics' Choice Awards™ were created to help parents and educators find genuinely effective learning tools that have been validated through a qualified scientific and objective evaluation approach using a panel of highly qualified academics, parents, teachers, homeschoolers and children.
The Academics' Choice Awards Reviewers had the following to say about Simplex Spelling Phonics 1.
"Understanding the sounds attached to letters and learning to sound out words are necessary skills for students to become independent readers. Simplex Spelling Phonics 1 makes it easy for students to practice these critical skills while boosting confidence. The app helps bridge the gap between phonemic awareness and phonics."
"The interface is clean and the navigation is simple enough for a child to work independently without a teacher or parent." "After the student attempts to spell the spoken word by clicking or dragging and dropping letters into the tiles provided, color-coded letter tiles reveal incorrect / placement issues allowing the student to achieve success on every word presented."
"The hint button and color-coded feedback were the apps best features. These two elements allowed students to gain mastery quickly and work independently."
"The app allows multiple users to save their progress and provides tracking for teachers and parents to review. The app even supports U.K., Canadian and U.S. English. It's a great value too!"
Device Requirements:
iPhone 3GS, iPhone 4/4S, 3/4G iPod touch and iPad
Requires iOS 4.0 or later
Universal Application
Simplex Spelling Phonics 1, Simplex Spelling Phonics 2 Syllables and Simplex Spelling HD - Dolch Sight Words are now available on the App Store under the education category by searching for 'Simplex Spelling'.
Evaluation copies of our Simplex Spelling apps are available upon request for educators, SLPs, OTs, reviewers and teachers working with technology integration.
Pyxwise Software Inc. is an independent developer of award winning educational software. It was co-founded by Craig Welburn B.A.Sc, B.Sc. and Lisa Welburn Ph.D. in 2011. The Pyxwise series of applications can be found on the App Store worldwide by searching for 'Pyxwise Software Inc.'. Copyright (C) 2012 Pyxwise Software Inc. All Rights Reserved. Apple, iPad, iPhone and iPod touch are registered trademarks of Apple Inc., registered in the U.S. and other countries. App Store is a service mark of Apple Inc.