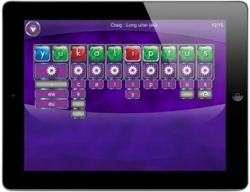 Finally, an app that can actually be used in the classroom!
(PRWEB) December 12, 2012
Pyxwise Software is excited to add Simplex Spelling Phonics - Advanced Phonograms to their award winning series of phonics apps. The newest app is recommended for older children over the age of nine to develop and improve their literacy skills. The proven teaching methods of Phonics 1 and 2 are now applied to longer and more difficult to spell multi-syllable words. Advanced Phonograms teaches over 750 new words that span 52 lessons including contractions, capitalization of proper nouns, advanced digraphs, and 'w' controlled vowels.
Carolina Nugent, an expert in early childhood education and Director of Education for the educational app store KinderTown, stated "Advanced Phonograms is the most advanced content in the amazing phonics series created by Pyxwise Software." She also stated, "This app goes beyond spelling practice to actually teach and connect a tremendous amount of educational content in small manageable bites."
The goal of the Simplex Spelling series of apps is to teach children "how to spell" rather than simply having children memorize a list of spelling words. Simplex Spelling uses a unique "reverse phonics" approach that acts like a personal spelling coach on every word, and the immediate letter by letter feedback system is designed with clues and hints that will enable every student to spell each word successfully.
Simplex Spelling's continual instruction in phonemic and phonological awareness becomes increasingly valuable as students spell multi-syllable words and words with unusual spellings. As students learn to break words first into syllables and then into individual phonemes, students naturally begin to use a "think to spell" approach that eases the spelling of more difficult words.
Kylie Turner, an experienced educator, evaluated Simplex Spelling - Advanced phonograms on her blog "iTeach Apps For the Classroom" and made the following comments:

"Simplex Spelling – Advanced Phonograms exceeded my expectations.  As soon as I opened the app, I was immediately in awe of the design and educational thought that has gone into this product."
"For children to be able to learn to read and write they need to be provided with systematic structure, and direct guidance or scaffolding. Simplex Spelling – Advanced Phonograms does this very nicely."
"As I investigated the app, I thought to myself 'Finally, an app that can actually be used in the classroom!'".
The Simplex Spelling series of apps are available on the App Store under the education category.
Evaluation copies of the Simplex Spelling apps are available upon request for educators, SLPs, OTs, reviewers and teachers working with technology integration. When requesting an evaluation copy, please indicate the educational institution represented along with the type of students you work with, such as grade level, ESL students, or children with special needs.
Pyxwise Software Inc. is an award winning independent developer of family friendly educational software. It was co-founded by Craig Welburn B.A.Sc, B.Sc. and Lisa Welburn Ph.D. in 2011. The Pyxwise series of applications can be found on the App Store worldwide by searching for 'Pyxwise Software Inc.'. Copyright (C) 2012 Pyxwise Software Inc. All Rights Reserved. Apple, iPad, iPhone and iPod touch are registered trademarks of Apple Inc., registered in the U.S. and other countries. App Store is a service mark of Apple Inc.