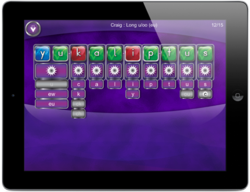 Kids who've scores have gone up and down in the 40-50 range since last Christmas have climbed into the 70's
Edmonton, AB (PRWEB) January 15, 2013
Pyxwise Software's latest app Simplex Spelling Phonics - Advanced Phonograms is currently being featured by Apple as New & Noteworthy for its fourth consecutive week. It has also been featured by Apple in the What's Hot category in an additional 16 countries. In celebration of the release, Advanced Phonograms will be reduced in price for a limited time to $0.99.
Simplex Spelling Phonics - Advanced Phonograms fills an often uncovered area of phonics by teaching more advanced and less understood phonetic patterns used in the English language. This includes phonetic patterns in words of foreign origin such as ch /sh/, ch /k/, ph /f/, and the letter i that makes the long e sound. Many other phonograms are also included such as gn, ui, eu, ei, ou, au, and aw. In addition to these phonograms, other topics are covered such as contractions and the capitalization of proper nouns.
Simplex Spelling's foundational design is based on reading research and the teaching of phonological and phonemic awareness skills. The series of apps has not only won many awards, but is also producing great results in teaching children how to both spell and read. The series has been embraced by parents, teachers, speech language pathologists (SLPs) and occupational therapists (OTs) to teach literacy skills to all students including those with learning disabilities and those with special needs. More than 6000 copies of Simplex Spelling have been purchased by schools around the world for use in the classroom.
Beth Pogue, a special education teacher with a strong background in phonics based teaching practices, supplemented her students' learning by using Simplex Spelling Phonics 1 & 2. She found that her students' spelling scores increased significantly over a four week period after introducing Simplex Spelling into her classroom. Beth stated, "Kids who've scores have gone up and down in the 40-50 range since last Christmas have climbed into the 70's, with increases every week for the past 4 weeks. Data doesn't lie. Pat yourself on the back and do the dance of joy!"
Ms. Amato, a NYC teacher, found that her students' spelling accuracy increased by 50% after using Simplex Spelling in her classroom for only five weeks.
Dr. Lisa Welburn the co-founder of Pyxwise Software and the creator of the Simplex Spelling approach to teaching literacy skills stated "We are extremely pleased with Simplex Spelling Phonics - Advanced Phonograms being so highly featured and we are absolutely thrilled that Simplex Spelling is making such a positive impact in the lives of so many children".
The Simplex Spelling series of apps are available on the App Store in the Education category and can be found by searching for Pyxwise.
Evaluation copies of the Simplex Spelling apps are available upon request for educators, SLPs, OTs, teachers working with technology integration, Journalists, bloggers and app reviewers. When requesting an evaluation copy, please indicate the website or educational institution represented along with the type of students you work with, such as grade level, ESL students, or children with special needs.
Pyxwise Software Inc. is an award winning independent developer of family friendly educational software. It was co-founded by Craig Welburn B.A.Sc, B.Sc. and Lisa Welburn Ph.D. in 2011. The Pyxwise series of applications can be found on the App Store worldwide by searching for 'Pyxwise Software Inc.'. Copyright (C) 2012 Pyxwise Software Inc. All Rights Reserved. Apple, iPad, iPhone and iPod touch are registered trademarks of Apple Inc., registered in the U.S. and other countries. App Store is a service mark of Apple Inc.