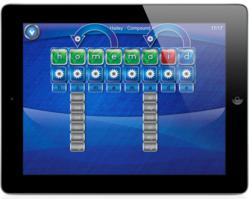 we recommend the whole Simplex Spelling series of apps
Edmonton, Alberta (PRWEB) July 30, 2012
On August 3rd, 2012, Pyxwise Software will be reducing the price of Simplex Spelling Phonics 1 to $0.99 a reduction of 80%, and Simplex Spelling Phonics 2 will be available for only $2.99.
Many individuals struggle to master the English Language. English is a complicated language with a written code that is often not well understood and is frequently taught incorrectly. Simplex Spelling demystifies the English language in its unique approach to teaching both decoding and encoding skills. It explains how letters map to various sounds as well as how sounds map back to letters in the English language.
The fully comprehensive phonics based approach combines phonics lessons, spelling patterns, word patterns, syllabication, Pyxwise's "reverse phonics" approach, and contextually relevant spelling rules. Simplex Spelling actually teaches students the logic behind the language along with critical life long literacy skills such as phonemic and phonological awareness.
AppySmarts recently reviewed the Simplex Spelling apps stating they are "an excellent choice for teachers and parents (we recommend the whole Simplex Spelling series of apps)."
The iPhone Mom approves the entire Simplex Spelling series. "I've mentioned the Simplex Spelling apps on the website before, they are great apps that take a thorough approach to breaking down words and helping children through the spelling process."
The Simplex Spelling series is also being embraced by the homeschooling community. The Wired Homeschool states "Simplex Spelling Phonics 2 is as impressive as its predecessor and all the other products offered by Pyxwise."
Device Requirements:
iPhone 3GS, iPhone 4/4S, 3/4G iPod touch and iPad
Requires iOS 4.0 or later
Universal Application
Pricing and Availability: Simplex Spelling Phonics 1 will be available on August 3rd for the low price of $0.99 (regularly $4.99). In addition, Simplex Spelling Phonics 2 Syllables will be on sale for $2.99.
Evaluation copies of our Simplex Spelling apps are available upon request for educators, SLPs, OTs, reviewers and teachers working with technology integration. When requesting an evaluation copy, please indicate the educational institution represented along with the type of students you work with, such as grade level, ESL students, or children with special needs.