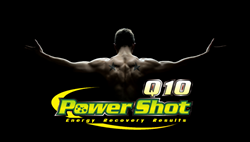 West Covina, Ca (PRWEB) October 29, 2014
Q10 Power Shot is a new all natural micronutrient supplement consumed through a 25ml drink comprised of CoQ10 and NADH Q1 together with other vitamins and enzymes. CoQ10 is a vitamin-like nutrient that is found in every cell of the body. The body makes CoQ10, and cells use it to produce energy the body needs for cell growth and maintenance. It also functions as a powerful antioxidant that protects the cells from damage caused by harmful molecules.*
Q10 Power Shot was previously only available to select professional athletes in the United States but is now available for all athletes to take their performance tot he next level. Q10 Power Shot does not contain any caffeine or banned substances but instead uses the body's natural energy production centers to increase performance.* Energy, Recovery, Results! Three key components any elite athlete needs to perform at optimal levels. Q10 Power Shot utilizes a proprietary formula that propels the body into an energy production frenzy at the cellular level. Q10 Power Shot ignites the energy within for explosive endurance, fast recovery time and maximizes results.*
Q10 Power Shot consumers are elite athletes comprising of professional boxers, ironman participants, marathon runners, crossfitters, soccer, football players and cyclists to name a few. The physically active person, who needs to replenish the energetic cell complex to sustain performance over a longer period of time, in particular the case of endurance stress on the muscular system as seen in endurance and elite athletes, Q10 Power Shot will be the supplement and performance partner of choice. Q10 Power Shot is now available for purchase through their Facebook Fan Page located at https://www.facebook.com/Q10PowerShot .
About Q10 Power Shot
Q10 Power Shot is an all natural micronutrient supplement consumed through a 25ml drink comprised of CoQ10 and NADH Q1 together with other vitamins and enzymes. Q10 Power Shot utilizes a proprietary formula that propels the body into energy production frenzy at the cellular level. Q10 Power Shot ignites the energy within for explosive endurance, fast recovery time and maximizes results.* For more information please visit http://www.Q10PowerShot.com or call 888-591-5942 .
*These statements have not been evaluated by the FDA (Food and Drug Administration). This product is not intended to diagnose, treat, cure or prevent any disease.