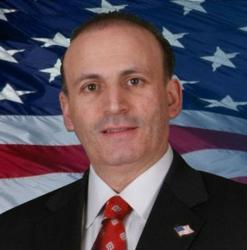 If Kyrillos can not debate Qarmout, how can he debate Menendez.
New Jersey (PRWEB) May 13, 2012
Since the TEA parties swept into the political arena in 2009, they have stood for limited government as well as personal and fiscal responsibility. During the last three years they have educated themselves and their members on the current events that will impact the liberties this country has long enjoyed. The question has always been whether or not these political newcomers could stand up to the establishment machines that have controlled government.
It seems that Bader Qarmout, a political newcomer running against an establishment candidate in the Republican primary for the U.S. Senate holds the answer to that question. Qarmout has been able to rally the citizens of New Jersey with a Conservative message that resonates with the TEA parties. As a result of his grassroots movement and strong messaging, a few of the most prominent TEA parties in the State have rallied to support him with their endorsements.
Leading the TEA Party charge was the Monmouth County TEA Party Coalition, followed by The Bayshore TEA Party Group, says Salanitri. It should be noted that both these groups are in the establishment candidate's back yard, and the Bayshore TEA Party endorsement was made after conducting a straw poll. The era of the career politician may be nearing an end in New Jersey as citizens have begun to vet candidates themselves instead of accepting those who are ordained by the higher powers.
The most recent group to join this citizens' movement is The West Jersey TEA Party, which endorsed Qarmout after changing their non-endorsement policy. Other TEA parties with similar policies are also considering change in order to be able to stand behind their Conservative champion. The Qarmout campaign is encouraged as it waits for other TEA parties, as well as other like-minded organizations to join this list of citizen activists.
RoseAnn Salanitri, Campaign Manager for Qarmout stated: "Over the past few years the TEA parties in New Jersey have worked hard to reel in an out of control government. There were those voices who thought we didn't have the will to persevere or the savvy to overcome. These endorsements speak louder and clearer than the naysayers. They are proving Abraham Lincoln was right when he said: '…that this nation, under God, shall have a new birth of freedom—and that government of the people, by the people, for the people, shall not perish from the earth.'"
Contact: RoseAnn Salanitri, Campaign Manager
email roseann@gmail.com…(cell) 862.266.3952