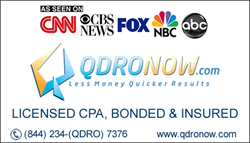 For inexperienced attorneys, preparing QDROs can be a minefield of mistakes waiting to happen.
Jacksonville, FL (PRWEB) June 15, 2016
Dr. Robert Hetsler Jr., J.D., CPA, CVA, FCPA, CFF, MAFF, the founder of QDRONow.com which specializes in preparing QDROs for divorce attorneys in all 50 states, has released a new 5-part video series detailing mistakes that attorneys common make when preparing divorce settlement agreements for their clients. The videos are available for on-demand viewing via QDRONow.com's website and YouTube channel.
The videos, which were filmed during Dr. Hetsler's presentation last month at the Financial Planning Association of Georgia's 2016 Regional Symposium in Atlanta, warn attorneys that they put their clients' financial well-being at risk – along with their own revenues and reputations – when they make QDRO preparation errors such as (but not limited to):

Misunderstanding their clients' plan type
Failing to properly address all earnings and losses
Incorrectly equalizing multiple plans
Incorrectly naming the plan
Ignoring surviving spouse issues
Failing to establish a clear division date
Failing to consider all of the risks and implications before settling on a fixed amount
Ignoring loan balances
Failing to assign responsibility for preparing the QDRO
The videos also highlight how attorneys can avoid these common mistakes, while at the same time providing their clients with more value and support.
"For inexperienced attorneys, preparing QDROs can be a minefield of mistakes waiting to happen," commented Dr. Hetsler, whose company recently entered into a referral relationship with LionsBridge Wealth Management, LLC, which utilizes Charles Schwab & Co. as their primary custodian to provide divorcing clients with access to timely financial management expertise regarding their qualified retirement accounts. "However, many common errors can be avoided with the right education, and choosing the right expert partners."
During the presentation, Dr. Hetlser also spoke about the "Transitional Support Advisor" role that he introduced earlier this year in a widely acclaimed article published on QuickBuzzRead.com.
"Many divorce attorneys are asked by their clients, or in some cases expected by their clients, to help them regain their financial footing during and after divorce," commented Dr. Hetsler. "The Transitional Support Advisor provides this essential piece of the client service puzzle by answering financial planning-related questions, and making appropriate referrals based each clients' specific needs. It's a relationship that clearly benefits everyone. Divorce attorneys can focus on serving their clients' legal needs and not their financial requirements, while clients get the support and guidance they need and deserve."
As the world's first Transitional Support Advisor, Dr. Hetsler's unique skill set positions him to:
Value a business
Identify hidden assets
Determine the income of self-employed spouses
Offer expert witness testimony
Provide financial planning
Make referrals to insurance providers.
Provide direction on the purchase or liquidation of real estate (Dr. Hetlser is also a licensed real estate agent)
In addition, unless trial testimony is required, Dr. Hetsler can function as Transitional Support Advisor remotely, which ensures that all clients regardless of location receive the full benefit of personal relationships with insurance agents, realtors, money managers, insurance agents, auto insurance, tax professionals, and any other type of professional both during and after divorce.
For all other information, including media inquiries, contact Dr. Hetsler at 844-234-QDRO (7376) or email Robert(at)qdronow(dot)com.
About QDROnow.com
QDROnow.com is a wholly-owned division of Qualified Intermediary Capital Advisors. The company is led by Dr. Robert Hetsler Jr., J.D., CPA, CVA, FCPA, CFF, MAFF, CMAP, who has been preparing retirement division orders for over a decade. Dr. Hetsler is a financial specialist in the division of retirement and pension accounts in divorce cases. Because of his unique set of financial skills, Dr. Hetsler is often called upon during divorce proceedings by attorneys and mediators nationwide to provide expert assistance in the division of retirement accounts. He has testified as an expert witness in divorce cases involving the valuing of retirement and pension accounts. He has also been retained to provide pension valuations and prepare qualified domestic relations orders (QDRO's) for 401(k) accounts, military retirement divisions, pensions, 403(b) accounts, FERS, non-qualified plans and many other types of retirement accounts in thousands of divorce cases.
Learn more at https://www.qdronow.com.