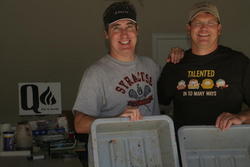 Roswell, GA (PRWEB) September 17, 2010
Can selling BBQ provide much needed assistance to orphans in Kenya? Jeff Mette and James Stickles, both of Roswell, Ga., say yes it can and they do. This can-do attitude is exactly what led these amateur BBQ cooks to create Q for a Cause, a professional BBQ operation offering good food for a good cause.
Mette and Stickles love to smoke BBQ. Both self-proclaimed Green Egg "grill-meisters," as well as regional competitors at the Cherokee Pignic in Canton, Ga., the best friends wanted to make a difference and enjoy their hobby, so early in 2010, they created Q for a Cause.
Stickles explained, "Jeff and I had a real desire to combine our passion for cooking with making a real difference and we are genuinely excited that we've found an avenue to do just that."
As members of Roswell United Methodist Church's Builders Sunday School class, the pair knew all too well the story of Merciful Redeemer Children's Home in Nairobi, Kenya. The class, along with other local efforts like Heart for Africa, had supported the orphanage for the last two years, aiding the move out of the slums to securing land, new buildings, beds, fresh-water wells, etc., and yet there is still much more to do.
"I am so excited to hear that you have purposed to continue raising money for the children. God answers prayers," said Anne Mugane, founder and director of Merciful Redeemer Children's Home.
Mette and Stickles, began planning in early April for a soft opening among friends and church members to offer the BBQ from a lawn tent at the Stickles' home during a neighborhood garage sale. Thanks to word of mouth and a bit of social networking, the two not only sold more than 50 lbs. of BBQ that day, but began gaining a reputation for quality food.
"We think Jeff's and James's BBQ is some of the best we have ever tasted," said "Q Crew" fan Shelly Eaton. "The fork-tender pork has this wonderful sweet and smoky crust that everyone loves. It is so flavorful on its own, but when paired with their wonderfully sweet, yet savory sauce, it is just irresistible. We just cannot seem to get enough!"
Since May, the duo have had two more Q for a Cause offerings. On Memorial Day, thanks once again to the support of friends, email networking and even Facebook postings, the pair raised more than $1,500 for the orphanage. Most recently, this past Labor Day weekend tipped everyone's expectations with a phenomenal 230 pounds of BBQ sold, resulting in a donation to the Merciful Redeemer Children's Home of more than $2,500.
"I've been absolutely overwhelmed with the number of folks that have rallied and gotten behind this effort," said Mette. "There are people that have purchased BBQ that are very good friends and many that I met for the first time when they picked up. It warms the heart knowing that people really do care about such a great cause…and they actually like our BBQ, too"
Mette and Stickles are keeping their day jobs, but plan to grow Q for a Cause to operate over major holiday weekends and possibly expand into catering for a cause. They are determined to beat previous sales records and see how much more they can sell to continue the Q for a Cause mission of assisting Merciful Redeemer in Kenya.
To learn more about Q for a Cause, visit http://www.qforacause.com.
Media Contact
Amber Mette
404.441.5316
amber(at)mettemedia(dot)com
###