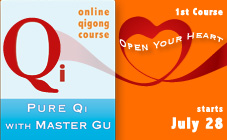 I invite you to take this opportunity to create a different present and future for yourself...Why be limited by any past injuries or illness...
Petaluma, CA (PRWEB) July 20, 2011
Beginning Jul 28, 2011 at 6:30pm PT people wanting to learn Qigong no longer have to get on a plane to San Francisco or watch a DVD class, because the Chi Center will launch "PURE Qi with Master Gu", the new online live streaming video course, taught by accomplished Qigong Master Mingtong Gu. The first course consists of 4 weekly classes --Jul 28, Aug 4, 11, 18 --Beginners at 6:00pm-7:00pm PT, Advanced at 7:30pm-8:30pm PT. The cost for the 4 week series is $60 Beginner, $80 Advanced.
Live-streaming is key because it allows the student to be real time with Master Gu, as compared to a video or book. Now people who can't travel to a class or retreat, because he or she is sick or disabled or busy at work and life, can learn Qigong with Master Gu conveniently on a home computer. They can learn the wisdom handed down from master to master for 5000 years in China, that strengthens the mind and body to thrive in stress, illness and aging.
"I invite you to take this opportunity to create a different present and future for yourself. Open your Heart with Qigong and together we will start a new Conversation of the Heart and let it reach around the world." Mingtong Gu said. " Why be limited by any past injuries and conditions to your body, heart or mind, when Qigong can help?"
The first course in the series focuses on Open the Heart with PURE Qi, bringing teaching, demonstration and practice to each online live-streaming video class. In Qigong the Open Heart is key to beginning and sustaining a wellness practice, so Course 1 will provide gentle movements and meditations that open (beginners) and cultivate (advanced) the heart. Each weekly class expands the Heart's capacity for joy and happiness, while the mind is building clarity and the body is building flexibility, strength and balance. Often traditional medicine will treat medical and emotional conditions as separate events, yet Qigong views the sadness, anxiety, lethargy as a heart in great need of Heart Qi. "Open the heart and more joy and wellness can follow." Master Gu said. The series will teach the skills and provide a download practice session for ongoing practice so each student can restore joy, sharpen thinking, restart wellness now and the years ahead.
Concurrently, the Chi Center is starting a new exciting presence on Facebook with " A Conversation of the Heart" at "PURE Qi with Master Gu". The public is invited to post photos, poetry, links that inspire their open heart for others to see. Master Gu started this Facebook conversation to provide a place online where anyone can visit to reinspire and reopen the heart through the stresses of life.
About the Chi Center:
Master Mingtong Gu is an internationally recognized teacher of Wisdom Healing Qigong. Master Gu is the founder of the Chi Center, which offers events, classes, retreats and online programs for the public, professional wellness practitioners and Qigong teacher training. Master Gu received his Qigong training from grandmasters in China and Tibet and at the world's largest medicine-less hospital in China. Founded in China over 5000 years ago, the Qigong practice improves energy and wellness through gentle movement, meditation, sound and visualization. The Chi Center is based at the Earthrise at IONS retreat center in Petaluma, CA.
###