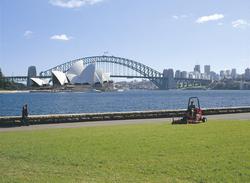 Toro is a prime example of how QlikView really does simplify analysis for everyone
Sydney, NSW, Australia (PRWEB) October 15, 2008
Do-It-Yourself and simplified business intelligence is in strong demand according to Inside Info, provider of QlikView business intelligence software, with Toro Australia joining the company's growing client list.
Part of The Toro Company (NYSE: TTC), a leading worldwide provider of outdoor maintenance and beautification products for home, recreation and commercial landscapes, Toro Australia has rolled out QlikView to over 40 operational, sales and management staff with its first application delivered in just six days. With just two days of developer training, Toro has consolidated data from SAP BW, as well as its service centre, freight and CRM management systems to deliver an interactive view of customer profitability at a product line, item and material level. All QlikView development is managed in-house by Toro.
Toro's strategic imperative is to 'grow lean' by developing processes and business support systems that ensure company resources are directed at the right level to improve customer and product profitability. This needed to be achieved in an environment where Toro's ERP system and data outputs are managed overseas from head office.
QlikView allows Toro for the first time to freely explore and analyse sales and margin impacts of in excess of 5,000 individual products from every conceivable angle of the business. This includes margin rates per customer, sales per quarter by salesperson, sales per product code by district and salesperson. Toro's operational teams can also better manage freight costs, analysing freight against sales at a customer level.
The speed and ease of deployment, competitive pricing with better long-term total cost of ownership and the availability of a robust and proven SAP connector, were decisive factors in Toro's choice of QlikView over other BI platforms.
QlikView is even used to monitor the resources an individual customer uses in the business and the amount of time a Territory Manager spends face-to-face with a customer compared to the value that customer delivers to ensure an equitable balance.
"We realised value from our QlikView investment within days," said Tim Hogan, Manager, Business Intelligence, Toro Australia. "We put QlikView's ease-of-use to the test ourselves by taking one of our Business Units and extracting five years of data. With only one internal resource and support on hand from Inside Info, we built a powerful profitability analysis application that was back on the desks of business managers in six days. The result was an integrated view of customer profitability at a material level - and it's the first time we've had this."
"Toro is a prime example of how QlikView really does simplify analysis for everyone," said Stuart Barnard, Managing Director at Inside Info. "QlikView is extremely powerful, but still so easy and fast to develop and use because it's based on in-memory analytics rather than OLAP. Enterprise level users can be up and running within days. Consequently, the business is receiving benefits within days and weeks rather than the indefinite period traditionally associated with BI software, now it can also be with minimal consultancy attached."
About Inside Info:
Inside Info is the exclusive distributor and local representative of QlikView in Australia - the world's fastest growing business intelligence software according to IDC. Inside Info specialises in selling, creating and bringing to life QlikView applications that simplifies business analysis for everyone, delivering powerful and interactive dashboards and reporting solutions. Inside Info have over 180 local QlikView customers across mid market and large organisations, including Toro Australia, Vodafone, Manassen Foods, Avnet Technology Solutions and Fujitsu General.
QlikView works the way your mind works - making associations by connecting data from many sources in a few clicks. This patented in-memory association technology brings fast results and better decision making. QlikView is intuitive to learn, simple to modify and can be deployed in a few weeks. QlikView is the flagship product of QlikTech who has more than 415,000 users at more than 9,233 customers in 87 countries. QlikTech was founded in Lund, Sweden and is headquartered in Radnor, PA (USA). QlikView was awarded "Best Mid Market Software Solution" at the Gartner Midsize Enterprise Summit in 2007.
Inside Info offers a fully functional, free trial of QlikView. For more information, please visit http://www.insideinfo.com.au
For media enquiries, please contact
Jo Balfour
Progressiva
jobalfour @ progressiva.com.au
+61 2 9365 6258
+61 405 542 018
###