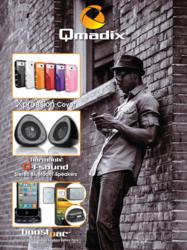 Qmadix Facebook Fans can redeem 25% off their entire web store
Panorama City, CA (PRWEB) August 29, 2012
Qmadix, known as a leader in tech gadgets and accessories, is proud to announce the launch of their Labor Day Promotion to all Facebook fans. For the Labor Day holiday, Qmadix is offering a 25% off discount plus free ground shipping on all orders in the United States, not including tax. This promotion will last one week starting on Wednesday, August 29th 2012 at 6:00 AM until September 5th, 2012 11:59 PM.
Qmadix Facebook fans can redeem 25% off the entire Qmadix web store by simply going to the Qmadix Facebook page, "liking" the page and clicking on the "Redeem Offer" on their timeline.
With this offer, Qmadix fans can indulge in fashion forward and protective mobile phone covers. The offer also entitles fans to entice their audio senses with the iharmonix Q-i-Sound stereo speakers, which are the world's first wireless Bluetooth speakers with true stereo sound separation. Qmadix fans can get the extra boost they need while traveling around on Labor Day with Boostpac battery pack solutions. For the more extreme outings on Labor Day, iPhone owners can protect their fragile screens with the revolutionary Tempered Tech-Armor made of low profile shatterproof, scratchproof, and shock resistant tempered glass material. Other offerings include performance mobile music earphones, screen protectors, smudge-free cleaning kit, audio/video cables and more.
This offer is good for one week. Qmadix facebook fans can get any Qmadix product for the 25% discount with free ground shipping on all orders over $50 in the United States, not including tax. To qualify and participate in the savings, users must "like" Qmadix Facebook page at: http://www.Facebook.com/Qmadix and redeem the offer listed their timeline.
"Our fans have given us such wonderful support on Facebook, and we are happy to give back to Qmadix fans on Labor Day" said David Khalepari, Chief Executive Officer at Qmadix.
Purchases of Qmadix products can made at http://www.qmadixonline.com
About Us:
Qmadix has a proven track record in developing and implementing effective accessory programs across all major channels, including Mobile Network Operators, Dealer Agents, Distributors and National Retailers. Our focus is to help our partners become more profitable by providing innovative products and backing them with value-added programs such as education, training, vendor managed inventory (VMI), private label branding and fulfillment services to enhance the support to our customers. We have built our business from the ground up and have continued to grow and evolve in the accessory industry.
Qmadix's team is dedicated leaders with over 20 years of success in the accessory industry. Their long-standing commitment to providing quality products and innovative solutions has always been the cornerstone of the Qmadix philosophy.
Contact Us:
Qmadix
14350 Arminta Street
Panorama City, CA 91402
Phone: 818-988-4300
General: info(at)qmadix(dot)com
Media: media(at)qmadix(dot)com
Copyright © 2012 Qmadix, Inc. All rights reserved. Qmadix ® is a registered trademark of Qmadix, Inc. and all other Qmadix product and service names and slogans are trademarks or registered trademarks of Qmadix, Inc. Other product and company names mentioned herein may be trademarks and/or registered trademarks of their respective owners.