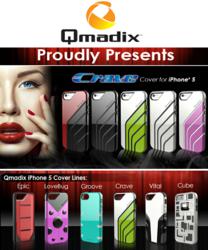 Panorama City, CA (PRWEB) October 11, 2012
Qmadix, known as a leader in tech gadgets and accessories, proudly introduces the release of their Crave covers. This new line of fashionable covers protects from the impact of damage from accidental drops and scratches. Crave covers features an evolutionary design that combines Tri-Fused shock-absorbent material with a sophisticated outer shell that provides maximum protection for your iPhone 5.
"Crave cover sports a clean sophisticated design for people who want something that's suitable for a business meeting and yet still very eye catching for going out at night. Asymmetrical designs can be tricky, but when done right they are very memorable, which was exactly our vision and seamlessly executed when creating Crave covers." said Jimmy Kuan, from the Qmadix Development and Design team.
The single-piece cover integrates a classy style with equally protective features that are designed to bring the best of both worlds. Available in a multitude of color combinations that clearly shows distinct individual expression while complementing the natural look of the iPhone 5 design.
Crave Covers are available now for $34.99 at http://www.qmadixonline.com. Color combinations include: Black/Black, Red/Black, White/Lime, White/Pink, and White/White.
About Us:
Qmadix has a proven track record in developing and implementing effective accessory programs across all major channels, including Mobile Network Operators, Dealer Agents, Distributors and National Retailers. Our focus is to help our partners become more profitable by providing innovative products and backing them with value-added programs such as education, training, vendor managed inventory (VMI), private label branding and fulfillment services to enhance the support to our customers. We have built our business from the ground up and have continued to grow and evolve in the accessory industry.
Qmadix's team is dedicated leaders with over 20 years of success in the accessory industry. Their long-standing commitment to providing quality products and innovative solutions has always been the cornerstone of the Qmadix philosophy.
For more information about Qmadix's iPhone 5 Covers or any mobile accessories, please visit http://www.qmadix.com
Contact Us:
Qmadix
14350 Arminta Street
Panorama City, CA 91402
Phone: 818-988-4300
General: info(at)qmadix(dot)com
Media: media(at)qmadix(dot)com
Copyright © 2012 Qmadix, Inc. All rights reserved. Qmadix ® is a registered trademark of Qmadix, Inc. and all other Qmadix product and service names and slogans are trademarks or registered trademarks of Qmadix, Inc. Other product and company names mentioned herein may be trademarks and/or registered trademarks of their respective owners.