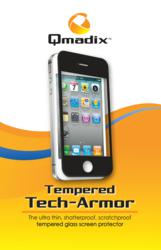 Tempered Tech-Armor is shock resistant to ensure maximum screen protection.
Panorama City, Calif. (PRWEB) May 30, 2012
Qmadix, known as a wireless accessory trend-setter, announced their latest product advance, a triple layered tempered glass screen protector, to set the bar in iPhone 4/4S screen protection. Tempered Tech-Armor was created specifically for customers who have an active on-the-go lifestyle and want maximum screen protection without sacrificing appearance. Tempered Tech-Armor aims to enhance consumer lifestyles by offering a better protective solution.
"We implemented strategic research and development into every aspect to make the best screen protection available," said David Khalepari, Chief Executive Officer at Qmadix. "Regular screen protectors won't prevent the fragile iPhone screen from shattering when it gets dropped, but our Tempered Tech-Armor is shock resistant to ensure maximum screen protection."
Using advanced triplex technology, Tempered Tech-Armor is inherently layered to stand as the ultimate defense shield against the toughest falls and scratches from the sharpest objects. The single-piece tempered glass screen protector sports proprietary surface coating to prevent the transfer of fingerprints or smudges from grime and makeup. The first-to-market, easy to install stick-on screen protector has a thin profile with about the same thickness of a business card.
Tempered Tech-Armor is available now for $39.99 at http://www.qmadixonline.com . Color options include black/white to seamlessly match the OEM iPhone colors. You can also find sporty protective iPhone 4/4S cases and solutions for Apple products on the Qmadix Website.
About Us:
Qmadix has a proven track record in developing and implementing effective accessory programs across all major channels, including Mobile Network Operators, Dealer Agents, Distributors and National Retailers. Our focus is to help our partners become more profitable by providing innovative products and backing them with value-added programs such as education, training, vendor managed inventory (VMI), private label branding and fulfillment services to enhance the support to our customers. We have built our business from the ground up and have continued to grow and evolve in the accessory industry.
Qmadix's team is dedicated leaders with over 20 years of success in the accessory industry. Their long-standing commitment to providing quality products and innovative solutions has always been the cornerstone of the Qmadix philosophy.
For more information about Qmadix's Tempered Tech-Armor or any mobile accessories, please visit http://www.qmadix.com
Contact Us:
Qmadix
14350 Arminta Street
Panorama City, CA 91402
Phone: 818-988-4300
General: info(at)qmadix(dot)com
Media: media(at)qmadix(dot)com
Copyright © 2012 Qmadix, Inc. All rights reserved. Qmadix ® is a registered trademark of Qmadix, Inc. and all other Qmadix product and service names and slogans are trademarks or registered trademarks of Qmadix, Inc. Other product and company names mentioned herein may be trademarks and/or registered trademarks of their respective owners.