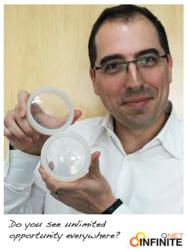 The QInfinite plan is about four things: Retail. Repeat. Rewards. Refer
Hong Kong (PRWEB) April 18, 2012
QNET, one of the world's largest and fastest-growing online shopping and business communities, today rolled out QInfinite, a revolutionary business plan for its international network of Independent Representatives (IRs).
This highly advanced and innovative compensation plan provides significant benefits and sales incentives for its IRs, putting QNET firmly among the top direct selling companies within a global, multibillion-dollar industry.
"We've always been a company that leverages technology to fit this person-to-person profession, ensuring only the highest-quality products and services complement our business opportunity," said Mr JR Mayer, Managing Director of QNET Limited.
"With this enhanced compensation plan, we are happy to be able to recognise our IRs in such a unique way. Recognition is at the heart of all we do, so it's fitting that we offer our distributors this one-of-a-kind plan," noted Mayer.
Already home to about 25 exclusive product brands, QNET launched QInfinite alongside a further expansion to its product portfolio, introducing new consumable and lifestyle products in line with the company's life-enhancing philosophy. These products, along with the proposed new products in the pipeline, add varied and renewed lines in keeping with the changes in consumer tastes and lifestyles.
After a world tour in March to promote Qinfinite among our IRs, the response to the new and fresh look to the business was overwhelmingly supportive and paved the way for today's official global roll-out, with synchronised events in Abidjan (Ivory Coast), Mumbai (India), Kampala (Uganda) and Dubai (UAE).
(Pictures from global launch events are available on QNET's Facebook page.)
With QInfinite, QNET is set to grow its retail business by 10% and its top line growth two-fold. The company operates offices and representative agencies in more than 25 countries and ships products to more than 100 countries around the world.
"QInfinite is a turning point in the history of QNET; a paradigm shift that will see our continued status as a respected member of the Direct Selling profession and a bright future for the network. It is an enhancement to the current plan that will provide IRs 8 ways to earn consistently from repeat sales of their existing network and retail customers. This plan is about four things: Retail. Repeat. Rewards. Refer." added Mayer.
As part of the new offerings, QNET is also providing a range of interactive e-services for IRs, that includes a brand new online virtual office for all business and sales needs, QNET Life Site, a lead management system that allows distributors to create personal sales and marketing sites and direct marketing campaigns to generate and manage leads and Qashout, a global e-Payment system in partnership with finance leader HyperWallet among others.
About QNET
QNET is one of the world's fastest-growing online shopping and business communities, with upwards of five million customers and independent distributors around the world. As a global direct selling company, QNET has millions of successful distributors and satisfied customers, e-Stores packed with exclusive lifestyle brands, and an award-winning customer support center spanning the globe in 25 languages.
Established in Asia in 1998, QNET utilises the direct sales business model on a proprietary e-commerce platform to market and distribute its exclusive products. The company specialises in both everyday, consumer brands as well as high-end luxury goods. QNET is a member of the Direct selling Association in Malaysia, Singapore & the Philippines.