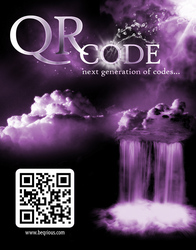 QR codes are the future of advertising.
New York, NY (PRWEB) November 16, 2010 –
BeQRious is proud to announce the launch of its new QR Code Tracking System, http://qrcodetracking.com . A QR code, or quick response code, is a type of 2D bar code that may be decoded by scanning with a smart phone such as an iPhone, Droid or Blackberry.
QR codes originated in Japan, where more than 5-million users have adopted the technology. Unlike standard barcodes, QR codes are far more powerful and contain much more information. They are beginning to catch on in the U.S. As a tracking mechanism for auto parts, QR codes have proven to be very useful. The technology is now emerging in advertising, marketing and convenience related applications. In recent months, QR codes have shown up in marketing materials such as movie and promotional posters, billboards and flyers. They are also appearing in newspaper ads, business cards, artwork, and are finding their way into everyday things. Companies like Coca Cola, Calvin Klein, The Gap, Louis Vuitton and IBM are now using the technology. It is anticipated that half-a-billion businesses will jump on board in the next couple years.
"QR codes are the future of advertising," says John Varacalli, BeQRious CEO. "And, BeQRious is positioned to be a pioneer in introducing the QR code tracking system to North America."
People don't have to be business owners in order to benefit from QR code technology. Anyone can generate a QR code for free and direct viewers to go to their website, blog, social media site, article, white paper, video, wherever they want to direct them. And, for businesspeople, it is an incredibly versatile and cost effective technology.
"QR codes offer a bridge between businesses' offline products and online information," says Varacalli. "With smart phones, people can get connected to anything that is online, no matter where they go. With more than 53- million smart phone users in the United States and more around the world, this is an audience just waiting to be tapped. QR codes are going to hit it big."
To start, visit http://www.beqrious.com . The online wizard lets people easily create QR codes with its QR code generator. Then, its custom designed QR code analytics system offers detailed tracking information and statistics for QR code campaigns. BeQRious also provides a tab to the latest QR news and hosts a discussion forum to make sure users have the most current information available in the industry.
About BeQRious
BeQRious was founded in 2005 by John Varacalli and Tomasz Wieczorek. The company has locations in New York and Gliwice, Poland. The BeQRious team has more than 10 years experience in computer programming, development, design and mobile marketing.
Contact:
John Varacalli, CEO
BeQRious
347-552-6673
info(at)beqrious(dot)com
# # #