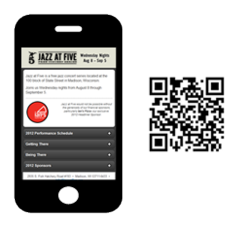 Austin, TX (PRWEB) July 27, 2012
Jazz at Five, the Midwest's leading free jazz concert series, and Immediatag, LLC, developer of the Immediatag mobile tagging platform for business, are pleased to announce a partnership to deliver relevant mobile content to Jazz at Five fans throughout the 2012 season. This content, created and delivered via the Immediatag platform, includes a mobile version of the Jazz at Five website as well as mobile program inserts that Jazz at Five fans can access during and after each show.
ABOUT MOBILE TAGGING AND JAZZ AT FIVE
Jazz at Five, like organizations everywhere, understands the importance of engaging customers through multiple channels, including mobile. In fact, mobile is slowly becoming the channel of choice for a vital segment of the Jazz at Five fan base—professionals under 35 who are likely to become long-term fans and financial supporters of Jazz at Five.
This is why Jazz at Five is partnering with Immediatag, LLC on a mobile tagging strategy for the 2012 season. Central to this strategy is a mobile-optimized version of the Jazz at Five website that fans can access by scanning a QR code incorporated into the 2012 promotional posters. The mobile Jazz at Five website is also displayed to fans automatically whenever they attempt to visit jazzatfive.org from a smartphone.
Also, Jazz at Five will use the Immediatag platform to deliver mobile versions of the program inserts distributed among the audience at each performance program. These mobile versions, accessible via a QR code added to the printed program, allow fans to access video and audio clips of the evening's performers, connect with both Jazz at Five and the performers via social media, and share the information with friends.
ABOUT JAZZ AT FIVE
Jazz at Five is a production of Jazz at Five, Inc., a 501(c)(3) charitable organization. Now entering its 19th season, Jazz at Five offers five nights of free live jazz on its stage located at 100 State Street—right in the heart of downtown Madison.
For more information about Jazz at Five, please visit jazzatfive.org.
ABOUT IMMEDIATAG
Immediatag, LLC is a software developer based in Austin, Texas.
Our first product, the Immediatag mobile tagging platform for business, features a mobile content management system that allows businesses to create high-quality, media-rich mobile landing pages and other types of mobile content—quickly and with no programming required. It also features management tools for creating and organizing bridges (such as QR codes) that connect customers in the real world to engaging, relevant mobile content in the digital world.
For more information about Immediatag, please visit immediatag.com.