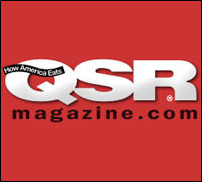 QSR has already created a strong brand, and a name that is synonymous literally and viscerally with the industry it covers
Atlanta, GA (PRWEB) March 27, 2007
QSRmagazine.com, a publication for executives and operators in the foodservice industry, today announced the successful March launch of the redesigned QSR Magazine web site. The 10-year-old QSR launched its original web site in May 2000, becoming the first company to bring coverage of the quick-service and fast-casual restaurant industry into the online world.
The newly designed site has enhanced capabilities for the sale of advertising, including the use of rich media and third-party ad serving. QSR teamed up with DoubleClick to implement their DART advertising suite. QSR has also partnered with a third-party email vendor to augment the current QSRmagazine.com e-newsletter offerings, and to allow for substantial expansion of their email marketing strategy throughout 2007.
"QSR has already created a strong brand, and a name that is synonymous literally and viscerally with the industry it covers," said Kevin Donaldson, the new marketing director for QSR magazine. "The next steps are to refine that brand on-line, and strengthen our position as the number-one periodical, on-line and off-line, that is covering quick-serve and fast-casual business."
The QSR magazine web site continues to grow in the hot market of B2B on-line news. The print magazine maintains a controlled subscriber base of 30,000 restaurant industry executives and operators, making QSR the strongest player, by far, in its niche market.
Despite increasing ad pages in the magazine, which is a reversal of trends among trade publications, QSR has made a significant commitment to digital media coverage of the restaurant industry. "With our prodigious industry-leading magazine and our rapidly growing on-line presence, we hope to take a bite out of the $19.5 billion that marketers are projected to spend on-line in 2007," said Donaldson.
QSR Magazine
QSR magazine and its web site QSRmagazine.com are the leading sources of news and information about the $180+ billion quick-service industry. For more than 10 years, QSR has defined this market, which includes traditional fast food, fast-casual dining, coffee, snacks, full-service takeaway, concessions, convenience stores, and related segments of the food-service industry. It is the magazine's brand mission to report and analyze current trends in the restaurant industry, work to enhance the positive impact of diversity on this market, and improve the quick-service restaurant industry as a whole.
###