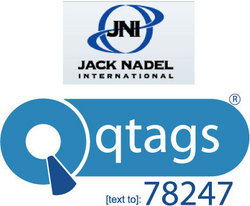 qtags keywords give us an easy and affordable way to build micro-targeted marketing audiences for our clients
Houston, TX (PRWEB) July 25, 2007
Jack Nadel International (http://www.nadel.com) clients can now select a text-messaging keyword - powered by qtags text (http://www.qtags.com) - for printing or embossing on their specialty products. When texted to 78247 (q-t-a-g-s), those keywords will return a reply text to the sender with unique messages and offers and links to dot-mobi, or phone-enabled websites.
The goal is to extend the reach of existing marketing and promotional programs by enabling individuals to interact with companies via their mobile phone. Imagine, for example, a trade show attendee receiving a giveaway at a booth and then texting that company's keyword to receive additional information about a product or service, and possibly even a unique offer, all via text message reply.
"qtags keywords give us an easy and affordable way to build micro-targeted marketing audiences for our clients," said Athans Zafiropoulos, Partner and Vice President of Business Development for Jack Nadel International. "We plan to use qtags' dynamic content and mobile-site creations systems to audiences with relevant and real-time news, information and rewards - extending the value and visibility of our promotional products."
Allison Gower, qtags President, says that the company's expanding portfolio of mobile marketing solutions is a perfect fit for a company such as Jack Nadel.
"qtags mobile solutions are designed to be off-the-shelf easy to use, yet robust enough for even the most creative communication strategies, " she said. "Jack Nadel International, as the coordinating agency for a client's promotional program, is in a unique position to integrate text-messaging not only throughout the merchandising and specialty creative, but also to coordinate its integration into the broader marketing mix".
To help spread the word among its employees, Jack Nadel developed a keyword-based text-messaging solution for internal use, designed to promote an upcoming educational event. The keyword program illustrates the flexibility of text-messaging and demonstrates how to use qtags to support efforts to build awareness, create permission-based communities and deliver rewards in a quick, cost-effective manner.
"Because the qtags keywords are measurable, we can use the text-interaction to demonstrate ROI, and then quickly adjust and enhance programs based on real-time feedback to maximize their value," says Craig Nadel, President of Jack Nadel International. "Our clients benefit because we can more effectively target key audiences and maximize their marketing budgets."
About Jack Nadel International:
Jack Nadel International is a creative marketing and merchandising solutions company, specializing in promotional products. In business since 1953, Jack Nadel International services a wide range of Fortune 1000 companies including Nike, Palm, Paramount Pictures, Eli Lilly & Company and more.
About qtags, llc
qtags llc provides mobility marketing solutions to advertisers throughout the United States, Canada and the Caribbean. qtags keywords are used to make advertisements easier to remember, to build extremely targeted permission-based groups, to deliver rewards like promotions and coupons, to allow a consumer to order and view rich media content on the mobile phone and on digital displays, to connect to qtags-hosted dot-mobi sites, and to create interactivity with an audience via voting, trivia and feedback text programs. Formed in 2005, qtags' clients include Accenture, NAS Recruitment Communications, Fidelity Investments, Toyota, Scion, Verizon Wireless, Arena-Media Networks, American Express, Shell, Microsoft, Red Robin Gourmet Burgers, Wyndham Hotels, XtraMedium Communications, and Jack Nadel International. Learn more at http://www.qtagsforadvertisers.com or http://www.allaboutqtags.typepad.com or http://www.qtags.com
###