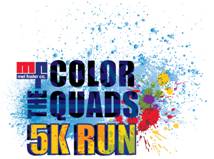 Quad Cities, Iowa/Illinois (PRWEB) January 08, 2013
On June 1st, there will be new race coming to the Quad Cities. The Color the Quads is a family friendly run that was inspired by color races in other markets. There is the primary 5k event and Kid's Color Dash, unique races that allow runners and walkers to get blasted with bursts of color powder on the course. This race format is popular with avid runners, families and walkers throughout the country and Mel Foster Co. is proud to bring the color fun to the Quad Cities.
The Color the Quads 5K will take place Saturday, June 1 at 4:00 p.m., Cumberland Square at 2300 Spruce Hills Drive, Bettendorf, Iowa. The 5K early registration fee is $30 until February 1, $35 until April 1 and $40 until May 27. The fee includes race entry, t-shirt and swag bag.
The Kids Color Dash cost is $15 until April 1 and $20 until May 27. This 400-yard dash for children 2-7 years old is at 9:00 a.m. on June 1. All race participants are invited to attend the colorful after-party.
The 2013 Color the Quads benefits two local organizations, the YMCA Youth Solutions and Camp Abe Lincoln and the Children's Therapy Center of the Quad Cities. The event brings colorful happiness to our community AND helps out local charities.
The event's colorful sponsors to come aboard early include; Mel Foster Co., Orthopaedic Specialist, Pear Advertising, Terrostar, Vollertsen, Britt & Gorsline P.C., Radon Solutions, Valley Bank, Hawkeye Paving, Active Endeavors, Nelson Chiropractic, Plaza Physical Therapy, and Quad Cities Sports Acceleration.
For more information, to sign up, to volunteer, or to become a sponsor, visit http://www.colorthequads.com.
About Mel Foster Co. Inc.
Mel Foster Co. is a recognized leader for real estate and insurance. Mel Foster Co. Real Estate specializes in residential sales and offers services for a broader spectrum of property transactions including commercial, farm and land, land development and management, relocation and new construction. Founded in 1921, it is one of Iowa's largest independently owned real estate companies. Mel Foster Insurance was founded in 1932 and represents over 25 insurance carriers and offers coverage for residential and commercial clients. Visit http://www.melfosterco.com for more information.