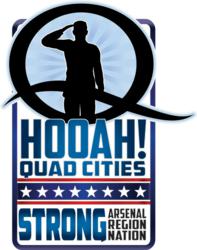 Quad Cities, Iowa and Illinois (PRWEB) May 12, 2012
Hooah! Quad Cities - a new military appreciation and community goodwill campaign launched Saturday, May 12, in the Quad Cities. The campaign was created by the Quad Cities Chamber of Commerce in partnership with several military support organizations such as the Association of the U.S. Army (AUSA). The purpose of the campaign is to support the military and the Rock Island Arsenal (RIA), a major military installation located in the Quad Cities. The RIA will celebrate its 150th anniversary in July.
For more information, go to http://www.HooahQuadCities.com.
The Quad Cities is located 2.5 hours directly west of Chicago along the borders of Illinois and Iowa where Interstate 80 and the Mississippi River intersect.