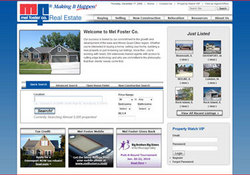 Today's consumer wants information quickly and with no hassles
Davenport, IA (Vocus) December 18, 2009
Friday, December 18, marks a milestone for Quad Cities real estate websites - Mel Foster Co. will launch the new http://www.melfosterco.com . It is packed with user-friendly features such as intuitive search, more and larger photos, mapping, and an enhanced new construction section; all of which have been optimized for speed. "Today's consumer wants information quickly and with no hassles," says Mel Foster Co. Director of Marketing, Kris Ratigan.
The new look and enhanced features reflect suggestions by Mel Foster's clients, consumers, agents and staff members. According to Ratigan, "We are always looking for ways to improve the Real Estate buying and selling experience for our clients. It was time to give our website a facelift."
The company chose to work with Terrostar Web Design & Internet Marketing – a Davenport, Iowa-based company that specializes in custom web design, internet marketing, e-commerce and search engine optimization. Together they developed a site designed to suit both Mel Foster Co.'s clients and staff members. The site is driven by a robust content management system that allows Mel Foster Co. to keep every aspect of it current and relevant. For consumers, hourly updates and improved search features will offer a user experience unmatched by local real estate websites. "When we set out on the development of this website, we focused on usability and performance. I feel we succeeded in both," says Tom Terronez, Terrostar's President.
The project took 10 months to complete. It is currently going through rigorous browser-testing and validation to ensure optimum performance. The launch process will begin early Friday morning and should be viewable to users within a few hours.
About Mel Foster Co.
Founded in 1921, Mel Foster Co. has been a driving force behind the growth of the Quad Cities and its surrounding communities. The Company employs nearly 300 sales associates and 95 employees in 10 offices. Annually, Mel Foster Co. helps over 4,400 home buyers and sellers in Eastern Iowa and Western Illinois.
About Terrostar
Terrostar was founded in 1999 and specializes in custom Web Design, Internet Marketing, E-commerce, and Search Engine Optimization. The organization's highly creative, talented team shares a single goal — to provide its clients with web-based marketing tools that not only look great, but work.
# # #